Breakthrough Worship Series
Breakthrough Has a New Home!
We are thrilled to announce the launch of our brand-new website, breakthroughseries.org. For the latest updates and sermon series, make sure to visit this dedicated platform. Explore the content, find inspiration, and stay connected with Breakthrough!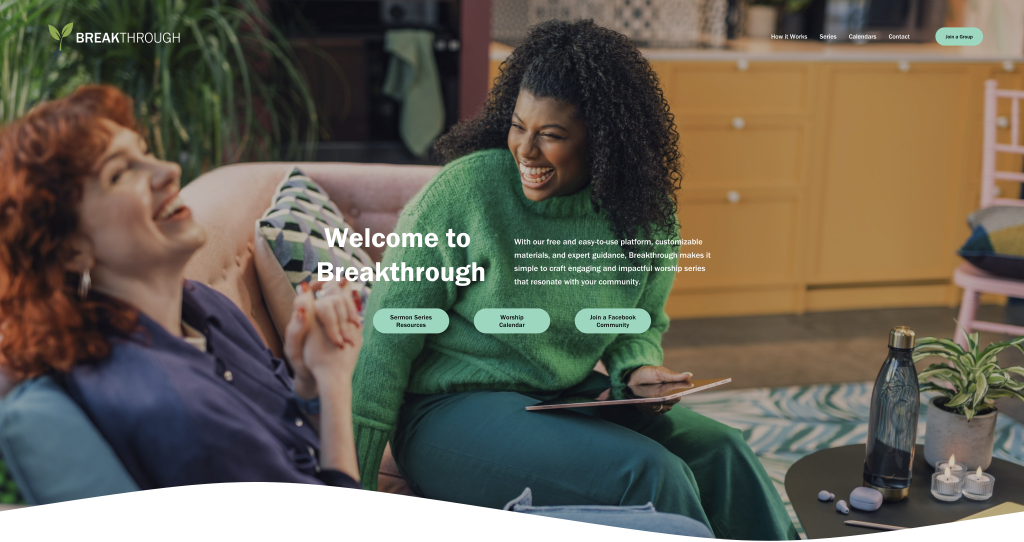 Join a Breakthrough Facebook Group
To go deeper in connecting with peers and sharing resources, we've created a Breakthrough Facebook Group.
What is Breakthrough?
Breakthrough is a resource designed to provide easy to use best practices and worship series so that GNJ congregations can re-tune their worship, spend less time preparing the details and focus on what really matters – preaching the gospel to make disciples of Christ for the transformation of the world.
The Breakthrough Journal is a guide to be used in coordination with a set of five worship series designed for GNJ congregations. You will find all the liturgies you need for your bulletin, creative graphics and videos, song and hymn suggestions, sermon starter materials and more. They're all free, and everything is adaptable.
Take and use what works. Rewrite or skip what doesn't. The goal is to save pastors 10 hours each week to prepare the sermon and lead the congregation. The goal is for leaders in churches to continue to learn, grow, and serve well. As pastors and church leaders partner together to do God's work: the breakthrough will come.
Check out the GNJ Guide to Best Practices for Worship. A Companion to the GNJ Sermon Series |Download guide here.
April 27, 2021 | Preaching Justice Workshop
Share Breakthrough with Congregational Leaders
Breakthrough is designed to be used by all congregational leaders. We encourage you to share with your team.
You can access a pdf version of the journal to email to your leaders.
Click here to order up to five copies that we will mail to you free of charge.
Click here to enter the names of your congregational leaders and will resource your team directly.
Thank you to our contributors:
| | | |
| --- | --- | --- |
| Alicia Grey | Jessica Campbell | Rachel Callender |
| Alison Vanbuskirk Philip | Jisun Nam | Richard Romero |
| Amanda Rohrs-Dodge | JiSun Yang | Ronell Howard |
| Anson Wilson | John Inverso | Sam Park |
| Antoinette Moss | Jonathan Campbell | Sarah Borgstrom Lee |
| Ashley Wilson | Joseph Jueng | Shawn Callender Hogan |
| Ben Lee | Josh Shuster | Shelley Smith |
| Brendan Galvin | Juel Nelson | Sooah Na |
| Brian Roberts | Kate Monahan | Steven Bechtold |
| Catherine Jordan-Latham | Keith Dickens | Terri Pagani |
| Chris Heckert | Kelly Vazquez | Tiffany Murphy |
| Chuck Coblentz | Kim Crutchfield | Tiffany Travia |
| Cristine Pasterchick | Lan Wilson | Tim Conaway |
| Dale Min | Larry Oksten | Timothy Conaway |
| Dave Tillisch | Latasha Milton | Todd Lattig |
| Deb De Vos | Laura Steele | Tricia Piazza |
| Dianna Stone | Luana Cook Scott | Waleska Trinidad |
| Elouise Hill-Challenger | Lynn Mears | Yeika Huertas Roman |
| Emily Wilton | Marissa van der Valk | Yoseb Jeon |
| Enger Muteteke | Mark Schol | Schuyler Berdan |
| Gabbi Martone | Mary Allen | Manuel Cruz |
| Geralda Aldajuste | McWilliam Colon | Kay Dubuisson |
| Gina Yeske | Michael Reed | Nicole Hamilton |
| Guillermo Javier Barroso | Miso Park | YoungHak Lee |
| Heather Mistretta | Myungsun Han | Jan Mercadante Phillips |
| Jacki Pillot | Nathan Addo-Nartey | Rosario Quinones |
| James Lee | Nicole Troast | Jesse Ruch |
| Jana Purkis Brash | Ninabeth Metcalf | Terry Wilson |
| Jason Rios-Ramos | Nova Villa Vitug-Thomas | Wil Wilson |
| Jennifer Williams | Onay Lopez | Junehee Yoon |
| Jessica Brooks | Rachael Phelps | |
For more information, contact: