Breakthrough Sermon Series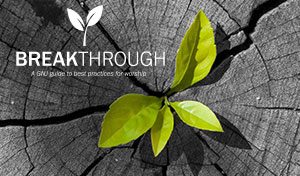 Breakthrough is a resource designed to provide easy to use best practices and worship series so that GNJ congregations can re-tune their worship, spend less time preparing the details and focus on what really matters – preaching the gospel to make disciples of Christ for the transformation of the world. Take a look and use them to refresh your worship. Click here
Music & Sermon Resources
Recommendations for worship | click here
GNJ vimeo showcase of all pre-recorded sermons | click here
GNJ vimeo showcase of all pre-recorded songs | click here
2021 Annual Conference worship music | click here
Table of Contents for Music Videos
Piano Accompaniment Recordings
Piano accompaniment recordings of familiar hymns from Discipleship Ministries | click here
Singing in Worship (6/29/21)
As we begin resuming worship in our sanctuaries, many have asked about the best practices for singing.
The official stance of the Center for Congregational Song (which is the resource and programmatic arm of The Hymn Society in the U.S. and Canada) is that congregational singing will be fully safe when 70-85% of the national population is fully vaccinated. As of August 22, we were at 52% in the U.S. fully vaccinated, and 61% having received at least one dose.
Please be aware though, that unvaccinated persons are still at high risk from the dangers of airborne particles. So, consider doing a congregational survey to observe how much of the congregation has been vaccinated before giving the all-clear to sing without masks.  Even then, reserving a section in the worship space for those who would feel safer away from unmasked persons is best. (Note: this does not mean force masked persons to sit in the section, but make it available to those who would feel more comfortable sitting apart from unmasked persons).
For unvaccinated persons, singing and participating in worship, whether indoors or out, masks are still highly recommended.
The larger the space is (in comparison to the number of people gathering), the safer it is to sing. For smaller indoor spaces, or where there are higher risks of vulnerability to COVID-19, it is best to have a soloist or small ensemble spaced three to six feet apart and 16 feet from the congregation leading the singing.
Airborne particles: The CDC and Jama Network also recommend increasing your clean air delivery rate (CARD) through ventilating maximum outdoor air or enhancing air filtration. The simplest way to ventilate additional outdoor air is by keeping windows and doors open in the building. However, the weather and outdoor sounds do not always make this conducive for comfortable indoor worship.  Increasing air filtration can be done by upgrading air filters in the HVAC to HEPA filters, and the addition of air purifiers throughout the building and particularly in the worship space and high traffic areas.
For further questions, please email Lan Wilson at Lanwilson@gnjumc.org.
April 27, 2021 | Preaching Justice Workshop
For more information on worship, contact: