Celebrated 152 years on March 23, 2021!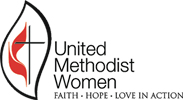 One of the best known Christian women's organizations, the UMW provides relief and resources to the poor, equips girls and young women with leadership skills, advocates for social and racial justice, protects the marginalized, and grow in their spiritual lives together.
Click here for more information and to get involved.
Video: Responding to the Challenges of Our Time
United Methodist Women fosters spiritual growth, develops leaders and advocates for justice—and a pandemic didn't stop us. Check out this new video sharing how United Methodist Women members put faith, hope and love into action.
Find out more about GNJ's UMW!
Read a story in The Relay about the new president, Sue Zahorbenski and Dr. B. Lee Manns here.
For more information, contact: