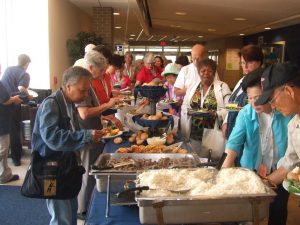 Come! Let's explore together the heart of Jesus' good news and what fresh vision it offers us as we seek to be in mission today.
Mission u Retreat
Sponsored by United Women in Faith
Don't miss an exciting study of the Lord's Prayer using the original Aramaic words of Jesus!
In Person: July 14 – 15, 2023
Centenary University, The Lackland Center, 400 Jefferson St., Hackettstown, NJ
Virtual Event: July 21 & 22  On Zoom
Renew, Refresh, Transform
Registration information: https://form.jotform.com/230537770480154
Links also available on: https://gnjumw.org/news  
Our 2023 Mission u curriculum is available at the UWF  Website:  https://uwfaithresources.org/
Living the Kin-dom: Exploring the Lord's Prayer as a Spiritual Practice for Social Transformation by Riva Tabelisma (Adult)
Seek and You Shall Find: Living in the Kin-dom by Rachel Mosher (Youth)