On Saturday, October 22, 2022, First Korean UMC in Cherry Hill, New Jersey voted to disaffiliate from the United Methodist Church. It was a decision that left many members heartbroken, disenfranchised, and searching for a new spiritual home.
That same day, they reached out to then Central District Superintendent and current Bishop Hector Burgos, who recognized the urgency of their request and offered St. Andrews UMC, less than a mile away, as a temporary location for their worship services. The following day, on October 23, 2022, around 50 people gathered at St. Andrews for their first worship service away from home.
As they began the service into their new location, the congregation were overwhelmed to tears, filling the sanctuary with heartbroken cries. For many of these members, First Korean UMC was more than just a church. It was a second home, a community, and a family. One member shared that First Korean UMC was the first and only church they attended after immigrating from South Korea forty-years prior. Another expressed feeling burnt by the First Korean UMC leadership after their request for a more balanced and transparent disaffiliation discernment process was ignored. Bishop Burgos was in attendance that first Sunday and partook in their grief. But from the ashes came something beautiful. The congregation was moved to tears as they shared Holy Communion, and the remnant community experienced a sense of unity and connection over the Table. 
For the next six to seven months, the congregation worked to settle into their new location. They are a Korean-speaking congregation with several intergenerational families determined to stay together as a community and as United Methodists despite their pain and loss.
Under the leadership of interim pastor Rev. Seunghyun Sean Lee, they began to explore what it meant to be a new church. They emphasized that the worship place is not just in the building, but everywhere where they worship God. They initiated collaborative ministries with St. Andrews UMC and co-led events in the Cherry Hill community.
"One of the greatest things that has happened is we have realized the importance of feeling safe, welcome, and wanted in a worship space," shared Rev. Josh Shuster, senior pastor of St. Andrews. "We've been able to work together on a number of things, but one of the greatest ideas has been the collaboration on the altar.  We have a combination of people from the Korean Church and SAUMC that puts the decorations on the altar for both churches and services to bring us closer to God in worship."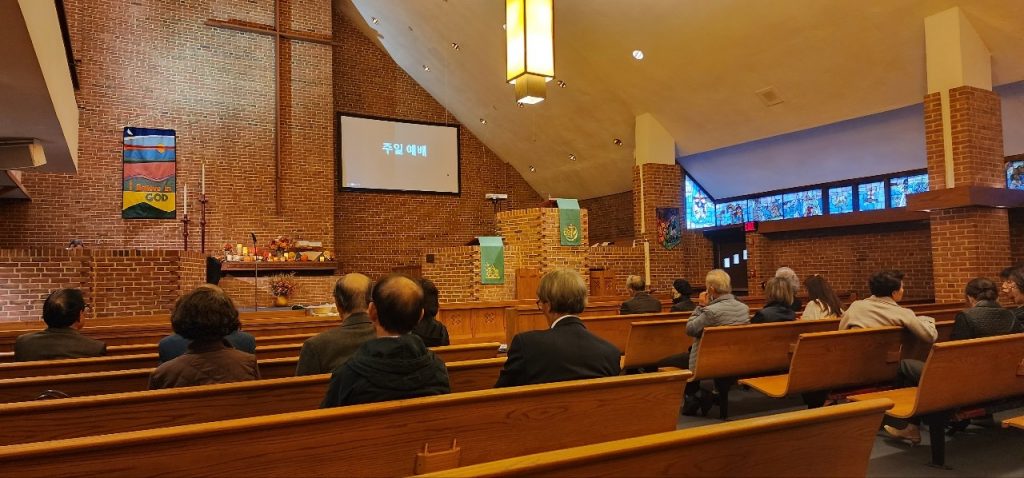 The remnant community selected a fitting name after a series of holy conversations and voting: Unity in Christ Church (한마음교회 in Korean). "The vision of our newly named, Unity in Christ Church, is to build a faith community that is united in Christ and transcends generational and cultural boundaries," described Suk-Chung Yoon, one of the leaders of the new church. "We have already been blessed tremendously by partnering in ministry with St. Andrews UMC, and as we continue to forge connections beyond generational and cultural barriers, we know that we can transform not only our own lives but the lives of the next generation."
Starting a new church is never easy, and the members of Unity in Christ Church still face many challenges more established churches may not consider. For instance, the church doesn't have an operating budget yet to gauge what we can and cannot spend, and the church does not have a bank account to receive donations. However, with the help of Conference Chancellor Lynn Caterson and GNJ conference staff, the church was able to overcome these obstacles. They helped the church set up their financial accounts, obtain a federal tax ID, and establish non-profit status for the church. Thanks to their hard work, Unity in Christ Church will be receiving their first official offerings on Sunday, May 7th.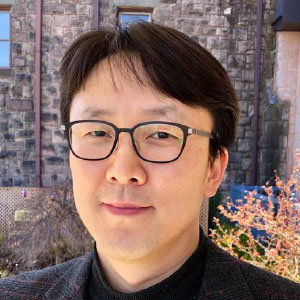 The United Methodist connection further came into play through the appointment process. On March 19, the GNJ Cabinet announced that Rev. Minho Cho will serve as the new official pastor of Unity in Christ Church beginning July 1. The community welcomed this news with great enthusiasm and gratitude, and looked forward to embarking on a new chapter of their faith journey together. 
From the heartbreak of disaffiliation, a new church was born. The tears now staining the communion table have transformed from tears of despair to tears of hope and renewal. The people of Unity in Christ Church have shown that even in the midst of pain and loss, there is always the possibility of new life and new beginnings. Through it all, the congregation held onto their identity as United Methodists. They remained committed to the idea that despite differences in opinion, we are all siblings in Christ.
As one member of Unity in Christ Church put it, "We may have lost our physical church building, but we have not lost our faith. We will continue to worship God, serve our community, and fight for justice, no matter what challenges we may face. And we will do it together, as United Methodists, as one family in Christ."