The United Methodists of Eastern Pennsylvania and Greater New Jersey have a new newspaper that encompasses both conferences in its reporting of news and information, its sharing of the gospel of Jesus Christ, and its promotion of mission and ministries throughout our region.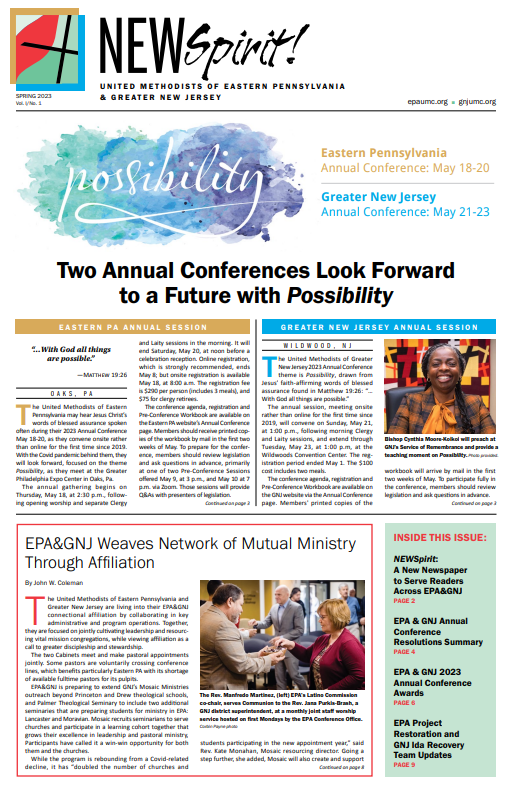 You are invited to read, enjoy and share with others the inaugural, Spring 2023 issue of NEWSpirit, jointly published as a quarterly newspaper. We explain in a page 2 column the reasons for this new publication, which draws upon the legacy of both conferences' former newspapers: The Relay in GNJ and NEWSpirit in EPA.
This 12-page first issue features news of the May 2023 Eastern PA and Greater NJ Annual Conference sessions. Read "Two Annual Conferences Look Forward to a Future with Possibility."
Also, two articles summarize important legislative resolutions to be considered by both annual sessions. Read "EPA Looks to Possibility Future, Despite Loss of Some Churches" and "GNJ Resolutions Include Farewells to Departing Churches." And a third article takes a close look at the "Consolidated EPA Budget (and) New Fiscal Policies Proposed for 2024."
Glean wisdom from Bishop John Schol's NEWSpirit column, "Possibility Leaders." And read "EPA&GNJ Weaves Network of Mutual Ministry Through Affiliation" to learn about the connectional collaboration happening between our two conferences as we cultivate leadership and resource congregations together.
As we seek to help our church tell its story and spread the gospel message, we are excited about the mutual possibilities inherent in our two conferences' affiliation. We have seen benefits already working together as a joint communications team.
We thank our readers for their support, both over the years and continuing in the years to come, as we share this ministry journey with one another.
One correction: The print version of NEWSpirit has an layout error. The Rev. Jana Purkis-Brash, a Greater New Jersey Conference district superintendent, will receive the conference's 2023 Helenor Alter Davisson Award. While she is pictured on page 6, the article about her and her award does not appear in the printed version mailed to subscribers. However, we have added the article to the website version.