Kristina Gonzalez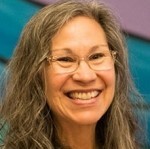 Kristina Gonzalez, Director of Innovation for an Inclusive Church for the Greater Northwest Episcopal Area of the UMC (GNW), develops curriculum and offers leadership development opportunities with a specialty in intercultural competency. Kristina is a member of the Innovation Vitality Team in the GNW, which works in three practices for vitality of local congregations and new expressions of Wesleyan theology in the world: inclusion, innovation and multiplication.
Kristina is a Qualified Administrator in the Intercultural Development Inventory (IDI) and an Associate with the Kaleidoscope Institute for leadership in a diverse changing world. She has served as faculty of the annual orientation for United Methodist supervising clergy for 15 years and consults and trains ecumenically in the field of intercultural competency.
Kristina has professional experience in the public and non-profit sectors working in the arts and human services. Her community service work includes 8 years on the Curriculum Committee of Leadership Tomorrow, a community leadership program serving the greater Seattle area, and a term on the Board of Trustees. She served on the UM Connectional Table, the denomination's global leadership body from 2004-2008 and chaired the Washington Association of Churches for two terms. She currently serves on the Boards of Directors for Bayview Retirement Center in Seattle, a United Methodist founded institution and is a member of Seattle First United Methodist Church.