United Methodist Women of GNJ
Celebrated 152 years on March 23, 2021!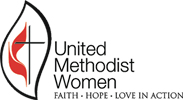 One of the best known Christian women's organizations, the UMW provides relief and resources to the poor, equips girls and young women with leadership skills, advocates for social and racial justice, protects the marginalized, and grow in their spiritual lives together.
Click here for more information and to get involved.
For more information, please contact: