Stanhope UMC in Netcong celebrated its 10th annual Jazzy Worship Service and Mardi Gras Pancake Breakfast on Sunday, February 19. "The Church in the Glen" added Mardi Gras melodies to its ministry, as 36 musicians played favorite hymns—such as "Just a Closer Walk with Thee" and "When the Saints go Marching In"—New Orleans-style. Their jazzy renditions enlivened the worship experience and uplifted attendees' spirits.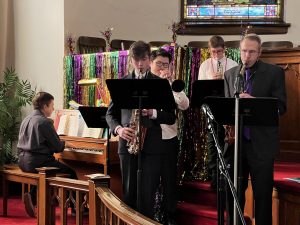 Scott Lefurge, a longtime church member and music teacher, began the jazzy worship tradition after Super Storm Sandy. He and the church were looking for a way to help people impacted by disasters throughout the world. Indeed, Lefurge spoke of how some of the hymns were composed to lighten heavy, emotional burdens during difficult times. The faith journeys of the writers and composers can be an inspiration to all.
The Rev. Lynn Zaremba, pastor, invited everyone to move as the Spirit led them by clapping, singing, or dancing in the aisles. Afterward, everyone was invited to join in a delicious Mardi Gras pancake breakfast in the fellowship hall and to enjoy more jazz favorites performed as they consumed over 400 pancakes, 300 sausages and fresh fruit.
An offering was received during worship and again at the Mardi Gras breakfast to benefit UMCOR (The United Methodist Committee on Relief).