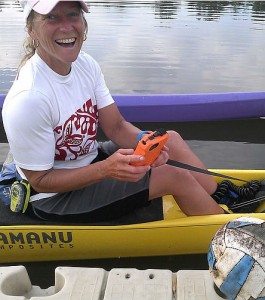 When Margo Pellegrino is on one of her paddling excursions to bring attention to the need to take care of our waterways, she's often alone, yet, not lonely.
That's because Pellegrino, who attends Medford United Methodist Church in New Jersey, understands there's a bigger and more powerful presence involved in her clean water mission.
"These journeys all have a spiritual aspect," Pellegrino said. "You talk about faith . . . there have been so many times where I feel like I am racing thunderstorms and there have been times I have been on the water when it has been really ugly.
"I'm out there all alone sometimes and there's a lot of praying involved. To me, it's just a reaffirmation that things will work out. You might not see it at the time, but it really does impact my faith."
Pellegrino is making her impact on the world by bringing attention to the need to take better care of our water sources. She is in the midst of paddling from New York City to Chicago on her most recent journey, about 2,000 miles, with a scheduled arrival of July 18 in Chicago. This journey actually began in Newark, N.J., and has taken her into the Erie Canal and eventually onto the Great Lakes of Lake Erie, Lake Huron and Lake Michigan.
"They are the largest supply of freshwater we have," said Pellegrino, who uses a sit on top outrigger canoe. "This is the fresh water ocean. They can be every bit as dangerous as the ocean and even more dangerous if you don't respect them."
Pellegrino believes all people should respect the need for clean water. That's why she's trying to influence the nation and world to take better care of it. That desire to make a difference is rooted in a Methodist foundation that was passed down from her Methodist pastor grandfather, on to her father, and then her.
"It was my father who got the ball rolling," said Pellegrino while paddling toward Lake Huron last month. "He did so much for other people. We never lacked for anything, but we did have financial limitations. He was always helping others so much and we couldn't always do what we wanted, but we were always happy. But we realized he had it right. He never said no to helping someone."
Pellegrino always knew she wanted to help people too and decided to take on more of a big picture project that could potentially aid thousands, or maybe even millions.
"I knew I wanted to do something and I've done things to benefit various charities," she said. "But I thought what can give the most bang for your buck is to focus on the water and the ocean. Globally speaking, water is always an issue."
Pellegrino admits the first priority in her mission has been to focus on the oceans needing to have clean water.
"I'm really passionate about the ocean and taking care of it," she said. "It pretty much takes care of us. Even some of the drugs we use, like AZT for AIDS, come from the ocean.  It is a chemical component of a sponge.  There are so many cures for diseases that we haven't really resourced yet.
"Scientists say some of the stuff is dying before we find out the benefit it can have for us. It's a lot of responsibility because all of the water goes to the ocean. You can eliminate so many problems if you just keep things clean. We are not keeping our oceans and freshwater systems clean."
Some of Pellegrino's saltwater missions include paddling from Miami to Maine, Miami to New Orleans and Seattle to San Diego. More locally she did a paddle from Trenton to Newark.
And similar to John Wesley during the circuit rider years in the 1700s, Pellegrino randomly meets people on her journeys and it's not unusual for her and her traveling companion (she has a different one for each trip), who drives ahead of her on land, to be asked to have lunch or dinner and even at times be offered free lodging.
"People have just been opening up their homes to me," she said. "People ask me what I am doing and they basically pick me up right out of the water. That has been just incredible."
Pellegrino also gets financial support for each trip. The main contributor for the New York City to Chicago trip is Earth Justice. Pellegrino's next scheduled journey in 2016 is to paddle from Chicago to New Orleans.
Like the water she travels, Pellegrino hopes her journeys allow her to continue to connect her clean water message to new places in the country.
"There is a call for stewardship," she said. "We need to take care of this resource and not ruin it so others can use it."