The biggest team with the biggest score that emerged from the NFL Super Bowl, Feb. 12, were the United Methodist churches of both competing areas that together collected about 180,000 pounds of donated food to fight hunger in their communities. Indeed, the most important victory that day was scored in pounds, not in points.
As the Philadelp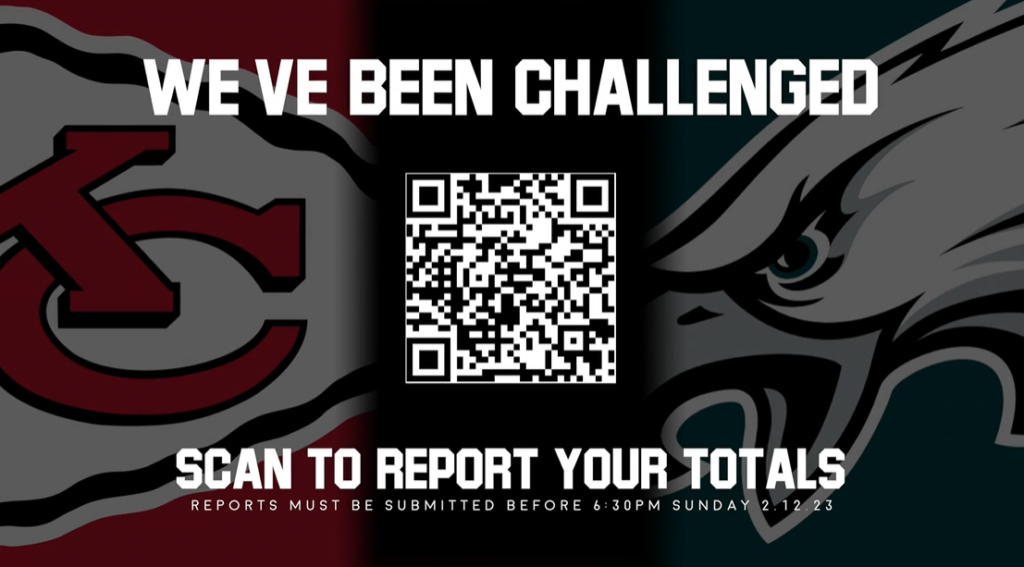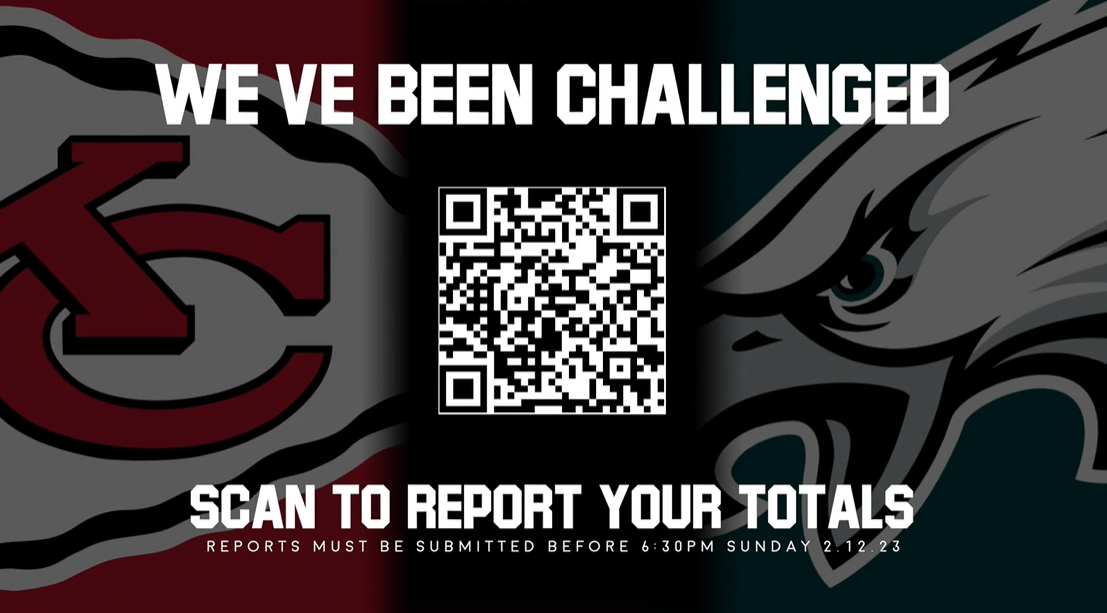 hia Eagles and Kansas City Chiefs kicked off their Super Bowl contest Sunday evening, more than 230 churches in the Eastern PA and Greater New Jersey conferences combined were reporting their remarkable collection of 74,044 donated pounds of food, plus monetary donations, in just five days.
The food collection drive was a friendly competitive challenge between EPA&GNJ churches and those in both the Missouri Conference and the Great Plains Conference, which covers Kansas and Nebraska. Their two Midwest conferences together reported collecting more than 105,367 pounds total–55,367 for the Great Plains, 50,000 for Missouri.
While Kansas City won the game by a close 38-35 score, "the real winners were the people in our communities," wrote Bishop John Schol in a letter to EPA&GNJ members, as the United Methodists in both areas united under a common mission to serve.
Bishops of the two areas–Bishop John Schol of EPA&GNJ and Bishops Bob Farr of Missouri and David Wilson of Great Plains–agreed to send each other's cabinets favorite foods from the two competing cities. The EPA&GNJ cabinet will receive bottles of Kansas City's famous barbecue sauce, and the two Midwest conference cabinets will receive TastyKake pastries and cheesesteak sandwiches—both Philly favorites.
"You raised 74,044 pounds of food. Praise God!," wrote Bishop John Schol in his letter to EPA&GNJ members. "Thank you for your generosity and commitment to be in ministry with those who need food. I also thank our churches and community organizations who every week serve people who are hungry. You are Christ in the world (Matthew 25:35)."
Both church and community food banks and feeding ministries across EPA and GNJ will benefit from the enthusiasm and generosity spurred by the Super Bowl Food Drive. The UMC at New Brunswick (GNJ) collected not only 200 pounds of food but also $1,234 to purchase more food for its nightly dinner ministry. "This collection will be a great help in supporting our mission," wrote the Rev. Cyndi Stouffer, pastor.
Belvidere UMC (GNJ) received 755 pounds of donated food. "Although the Eagles lost, our community won with all your generosity," said Rev. Janice McCrostie, pastor. She thanked local Costco and Target stores especially for large frozen food donations, among others. "You all are a blessing to Belvidere and our surrounding townships! Watch her video. (https://www.facebook.com/belvidereumcnj)
St. John's UMC in Hazlet NJ also partnered with Target, Costco and other store donors to collect 8,371 pounds of food for the church's food pantry, which serves over 120 local families.
Super Bowl Food Drive increases regular donations
Many churches that already collect and donate food regularly reported receiving more because of the special food drive. "We do a food collection each Saturday morning; but with the extra push, we did exceptionally well," wrote Ardmore UMC (EPA) about its 675 pounds. Many churches offered comments and photos of their collections. Most depicted bags and cans of food on, around or in front of their church altars, recalling Jesus' miraculous feeding of hungry crowds during his ministry.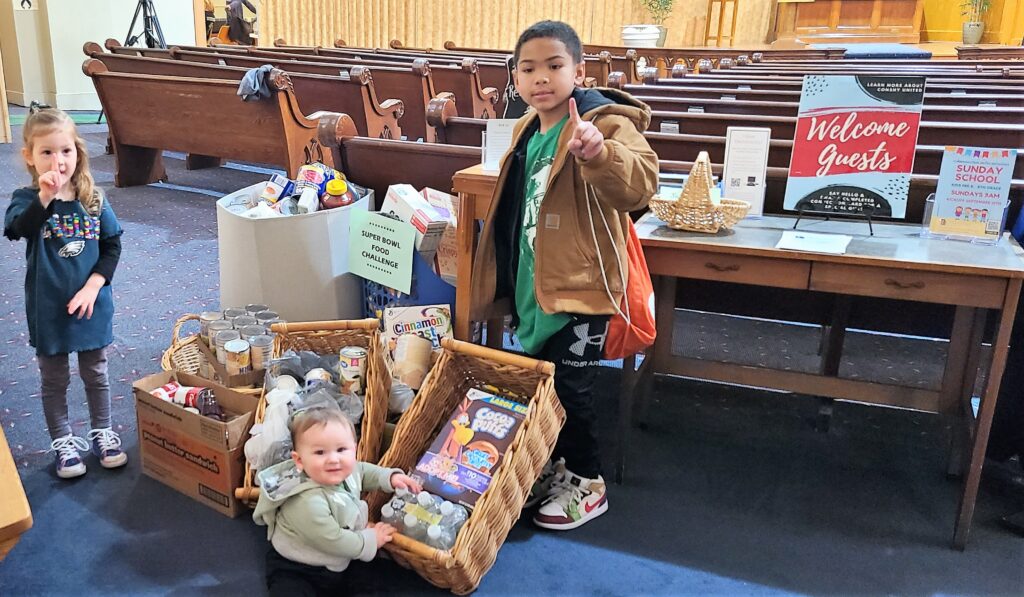 Children and youth helped some churches collect and count donations, including scouts at Salem UMC in Orwigsburg (EPA) and elsewhere. At Vincent UMC in Nutley (GNJ) children used pots and pans to collect monetary donations after worship. At Thorndale UMC (EPA) 80 of its 202 pounds of food was "brought in by our preschoolers and their families."
Members of several churches, who only learned of the food drive challenge when they arrived at church on Sunday, rushed out to buy food to donate. "We have older ladies who are not on the email list…(and were) angry that they didn't know about the challenge ahead of time," reported the Rev. Dave Delaney of St. Paul's UMC in West Deptford (GNJ). "They went out on Sunday afternoon to buy a small amount of groceries, so they could contribute to our 410.58 pounds of food that we raised to feed the hungry."
"We had people running to the grocery store today to meet the bishop's challenge," wrote the Rev. Barbara Lee, pastor of Green Pond UMC in Easton (EPA), which collected 88 pounds.
Meanwhile, several homebound members of Neola UMC in Stroudsburg (EPA) who attend worship online let their fingers do the walking by donating money electronically. "I accepted their pledges, and we purchased the food," wrote the Rev. Paul Milligan, pastor.
Souper Bowl of Caring adds to EPA&GNJ drive
A number of churches that participate in the yearly Souper Bowl of Caring national food donation campaign counted their collections toward the EPA&GNJ food drive.  Covenant Church in Springfield (EPA) reported 2,089 pounds donated, with financial donations still coming in. "Our church food drive is part of a much larger community-wide Delaware County Souper Bowl of Caring food drive that each year brings in donations for multiple local food banks," wrote Greg Corner.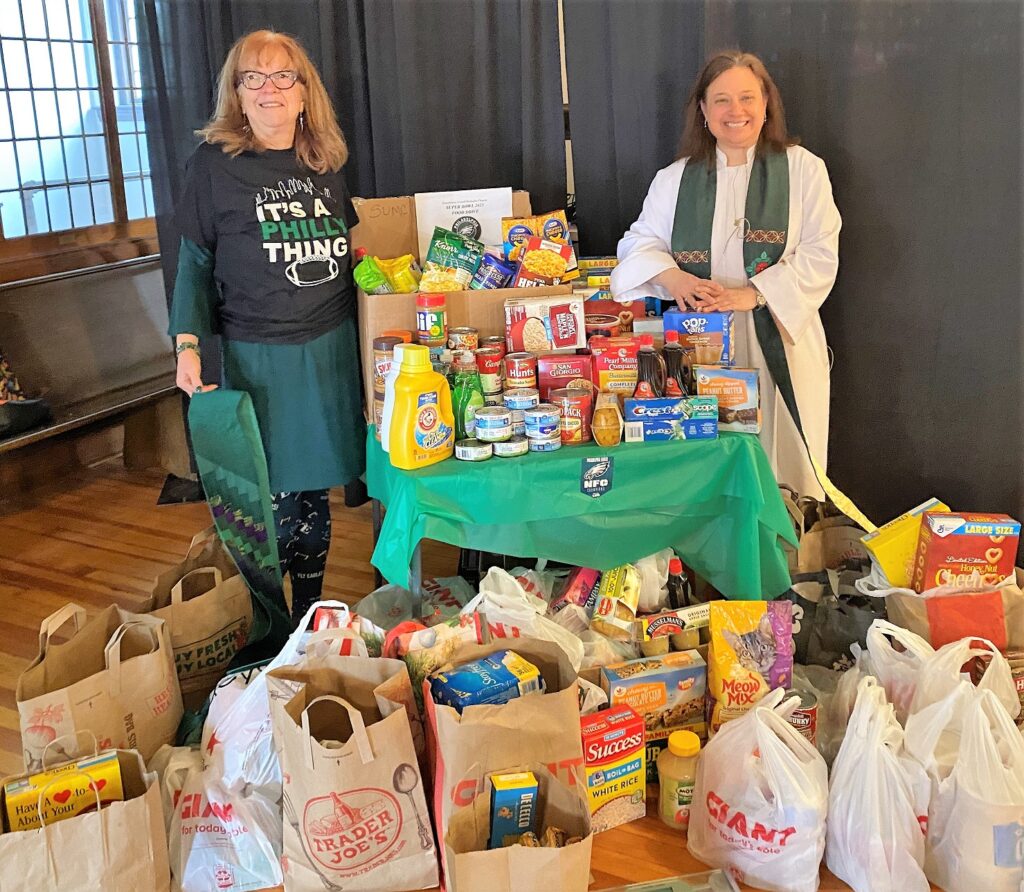 Some churches went above and beyond. New Dover UMC in Edison (GNJ) prepared and gave 700 lunch sandwiches to a local feeding ministry, along with its 242 pounds of collected food, in a joint venture with Wesley UMC in South Plainfield and Centenary UMC in Metuchen.
Other churches, like Lincoln Park Community UMC in Reading (EPA), have members who volunteer at area food distribution centers. That gave them extra motivation to support the food drive.
"We are a church with an anti-hunger ministry…and the place other churches donate food and supplies to," wrote Deaconess Darlene DiDomineck of Arch Street UMC in Philadelphia. With its nonprofit partner The Center, the church provides nutritious, homecooked meals weekly, Sunday through Thursday, at its daytime drop-in center serving unhoused/unsheltered neighbors in Center City Philadelphia. "This Super Bowl Sunday we will serve 300 pounds of food…in a healthy chicken chili with all of the fixings," DiDomineck reported."
The abundant pounds of collected food ranged from the teens to the thousands. Even some small-membership churches, like Camphor UMC in Philadelphia (1,506 pounds), reporting large amounts.
A fun challenge and a blessing
"This was a fun challenge," wrote Carol Cristiano of UMC of the Rockaways (GNJ).  "It's a wonderful opportunity that we could do this together," wrote the Rev. James Bolton of Pitman UMC (GNJ). "What a blessing this will be to so many. Thank You!"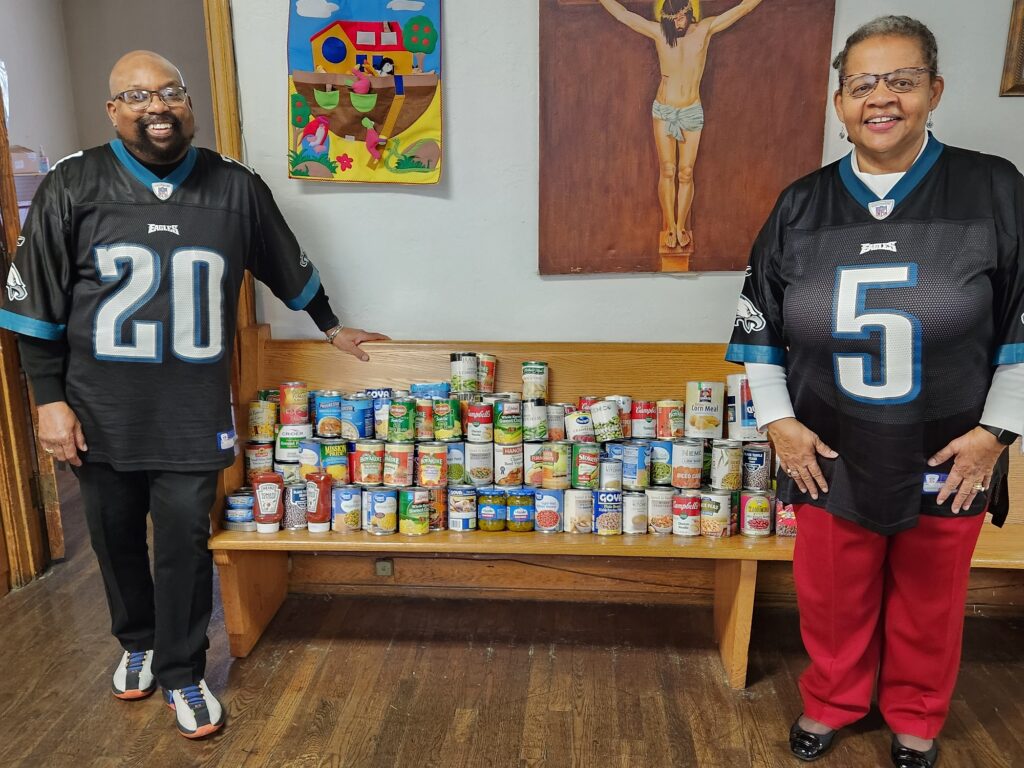 Bishops Schol, Wilson and Farr provided short videos congratulating one another's conferences for their successes in the food drive challenge. In the end, it was more of a collaborative challenge than a competitive one.
"We had not done this before," says Schol in his video, wearing a red Kansas City Chiefs jersey emblazoned with MVP quarterback Patrick Mahomes' number 15.  "And so, this is a first time and a first opportunity for us." Watch the video.
"We've learned that we can work together and make a difference, that we can all come together and serve our communities. And you know what, you've inspired us to do this every year. Whether any of the football teams in our area are in the Super Bowl or not. Because people need us every year."
"I give thanks for all the United Methodists working together to serve the people in our communities in Missouri, Kansas, Eastern Pennsylvania and New Jersey," said Schol on Thursday. "This great effort by everyone will feed thousands of people in our communities."
Watch the congratulatory video reports provided by: Bishop John Schol of EPA&GNJ; Bishop David Wilson of the Great Plains Conference; and Bishop Bob Farr of the Missouri Conference, along with the Rev. David Gilmore, Northwest District Superintendent.