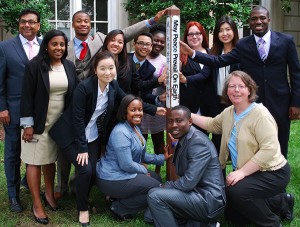 Erika Yun doesn't know exactly what the rest of her post-collegiate life will hold. She does know she has a chance of a lifetime this summer.
Yun, who attends Grace Korean UMC in Westwood, N.J., was one of 10 people, ages 18 to 23, selected to work in the Ethnic Minority Young Adult (EYA) Summer Internship program of the United Methodist General Board of Church & Society (GBCS). The interns are working in nonprofit and nongovernmental social justice organizations in the U.S. capital for two months.
A recent graduate of Messiah College in Pennsylvania, Yun majored in peace and conflict with a concentration in Asian studies.
"Having graduated in May, and having those types of passions and interests, when I was looking at specific types of internships, this seemed like a perfect fit for me," Yun said.
The interns are selected annually and primarily drawn from the five ethnic caucuses of The United Methodist Church, and increasingly from Central Conferences (outside the United States) to reflect the global nature of the denomination.
"I really love our group and our community," she said. "We come from such different backgrounds. Also, we know we have this connection of being around the same age group, coming from a college culture and being an ethnic person in the U.S."
Yun's internship is with the National Association for the Advancement of Colored People (NAACP), a civil rights organization for ethnic minorities in the United States. To qualify for the program, applicants must be passionate about social justice and active in the denomination, according to the Rev. Neal Christie, the GBCS assistant general secretary for Education & Leadership Formation who directs the program.
That's another reason why Yun thought she would be a good candidate for this particular internship.
"It's not a very peaceful time around the world or in this nation," she said. "That's why my study and major are important. There is this gaping wound in our society. We need to be more educated in practical skills and just personal peace and conflict skills and learn how to use this word instead of that one."
Some of the interns schedule has included traveling to Baltimore in June where they had an opportunity to learn about Methodist heritage. They also met with a United Methodist pastor who discussed the faith community's role in Baltimore in recent weeks to promote reconciliation and justice following the civil unrest after the death of Freddie Gray.
The interns also attend worship together each Sunday at a different area church and meet for weekly evening devotions and Bible studies. They are scheduled to go to New York City in mid-July to visit GBCS's United Nations & International Affairs office, the General Board of Global Ministries and the United Nations.
"It's been a lot of different experiences," Yun said. "Being in the Methodist building and having workshops, we talk about a lot of real issues."
Yun acknowledges that some of those issues exist within her own ethnicity.
"Seeing the injustice and destruction and hurt all around the world, it's just hard," she said. "I consider myself a Korean American and looking at all the unrest in the Korean peninsula, and looking at all of the family conflicts, I saw this major as something I could use."
While the summer internship does provide her a place to stay along with daily meals and transportation, Yun hopes her peace and conflict skills will be put to use for a paying job very soon.
"Looking at how institutions function in this world, you can go into any field," she said. "You're going to need this skill set wherever you go."