The United Methodists of Greater New Jersey 2023 Annual Conference theme is Possibility, drawn from Jesus' faith-affirming words of blessed assurance found in Matthew 19:26: "…With God all things are possible."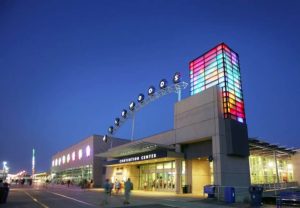 The annual session, meeting onsite rather than online for the first time since 2019, will convene on Sunday, May 21, at 1:00 p.m., following morning Clergy and Laity sessions, and extend through Tuesday, May 23, at 1:00 p.m, at the Wildwoods Convention Center. The registration period ended May 1. The $100 cost includes two meals.
The conference agenda, registration and Pre-Conference Workbook are available on the GNJ website via the Annual Conference page. Members' printed copies of the workbook will arrive by mail in the first two weeks of May. To participate fully in the conference, members should review legislation and ask questions in advance.
During our time of holy conferencing, we will join in praise and worship, including sharing in Holy Communion on scenic Wildwood Beach to welcome each new day and its many life-enriching possibilities.
There will be a Service of Ordination and Commissioning of clergy, a Service of Remembrance to honor the saints we have lost in the past year, and a Service of Passage with Anointing to celebrate both those clergy who are retiring and those who are entering the vocation of ministry.
Bishop Cynthia Moore-Koikoi, episcopal leader of the Pittsburgh Area (Western Pennsylvania Conference) since 2016, will preach at our Service of Remembrance and provide an informative and inspirational teaching on the conference theme.
She provides episcopal leadership also to the Harrisburg Area, which includes the Susquehanna Conference, in partnership with Bishop Sandra Steiner Ball of West Virginia. Bishop Moore-Koikoi is president of the denomination's General Commission on Religion and Race and may likely commend the conference for its commitment to ending the sin of racism.
Resident Bishop John Schol will offer his Episcopal Address to begin the formal legislative session on Monday morning. We will then hear a leadership ministries report and act on more than a dozen ministry reports, proposals and legislative resolutions during Holy Conferencing.
Life-saving mission will be at the heart of the conference on Monday, May 22, when an offering is received to support Hurricane Ida Recovery and attendees who signed up for the onsite mission project will assemble packages of nutritious, imperishable foods to be shipped to Rise Against Hunger.
"As we gather, God's possibilities continue to bless us," writes Bishop Schol in a greeting to conference members. He names recent efforts and achievements, including the conference's relaunch of the IGNITE Youth Conference in person last October, efforts to end the sin of racism through the holistic Journey of Hope, and continuing work on congregational vitality and sustainability through Pathways, the Leadership Academy, the Breakthrough worship series and other initiatives.
The bishop urges us to "prepare for our time together" through prayer, to read and share information in the Pre-Annual Conference Workbook, and to "engage with your congregation the legislation that will be before us."