(Neptune, NJ) – On Friday, April 15 at 10:30 a.m., Bishop John Schol, the leaders of the United Methodist Church of Greater New Jersey and 200 special guests celebrated, dedicated and blessed the new Mission and Resource Center in Neptune, New Jersey.
This space houses the leadership and staff offices of the church and resident bishop.  It includes 50 offices, 4,000 square feet of meeting rooms and a video and sound studio.
More than just office space, the Mission and Resource Center will be a place of inspiration and learning for spiritual and community leaders throughout the state, region and world.
Bishop Sudarshana Devadhar from the New England Conference who served Greater New Jersey in 2007 when the idea for the new conference center was initiated, shared, "We are standing in this magnificent Mission and Resource Center because of years of faithful and caring hands, hearts and minds committed to the Glory of God."
Others joining the event included retired Bishop Ernest C. Lyght and General Secretary of the General Commission on Archives and History, Alfred T. Day who shared artifacts from Francis Asbury's circuit rides in the region.
The Mission and Resource Center will serve as the administrative headquarters for A Future with Hope, the nonprofit organization started by the United Methodist Church to help people in the region recover from Superstorm Sandy.  A Future With Hope has become a leader in Sandy recovery around the state and to date has rebuilt 209 homes and employed more than 11,000 volunteers.
In addition to Sandy recovery, the people of the United Methodist Church have a tremendous impact throughout the state.  Their 560 congregations care for the spiritual health of their communities and have served 452,572 people in need throughout the state, region and world in 2015 alone.
Hector Burgos, Director of Connectional Ministries shared at the service, "Today, we dedicate the Mission and Resource Center, a place from which many will go out into the world equipped for life giving ministry and mission., we celebrate that so far the Lord has helped us and recommit ourselves to the mission we have been call – all to the glory of God."
Specifically, he stated that we are providing primary resources to equip our clergy and lay leaders that include coaching, clergy and lay peer learning groups, Team Vital to help congregations plan for vital ministries and Communities of Hope to equip congregations to be a catalyst for change.
United Methodist in Greater New Jersey have a long list of affiliated organizations that also help to further the mission including:
Camp YDP which educates and cares for children in Paterson
The Neighborhood Center which provides education, athletics and arts programs for youth in Camden
CUMAC/Echo an urban resource center in Paterson that feeds 40,000 people in New Jersey each year
Respond Inc., a day care and job training center in Camden
Drew University, Centenary College and the Pennington School who educate NJ children.
United Methodist Communities (formerly United Methodist Homes) which include 10 assisted and independent living facilities for New Jersey seniors.
The Mission and Resource Center will allow the church to reach even farther into communities and around the world.
Several state elected officials offered congratulations on the dedication of this new facility including Governor Chris Christie, US Congressmen Frank Pallone and Chris Smith and US Senator Cory Booker.    In a letter to the Bishop, Senator Booker shared, "Throughout its long history of service, The United Methodist Church of Greater New Jersey has been guided by the conviction that we must take care of each other.  For many in the community, The United Methodist Church of Greater New Jersey has provided a place for connection and togetherness."
"United Methodists continue to show their leadership in the region by providing vital service programs in their local communities, around the world, and through A Future With Hope which has provided safe and secure homes for hundreds of people who had nowhere else to turn," said Bishop Schol, "We are a growing church and the new conference center reflects our need to support our local churches to continue to engage their communities in new and necessary ways."
The 19,200 square feet building was designed by Shore Point Architecture, PA in Ocean Grove and built by Jack Green Construction also in Ocean Grove.  The work of United Methodists was evident throughout the construction.  Jack Green and his foreman, Norm Cetuk worship at United Methodist Churches.  The granite pillar for the baptismal font was provided by Garey Hope who is a retired Elder and Scott Maat, pastor of Buttzville UMC, built the cabinetry (see related article).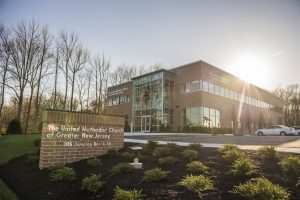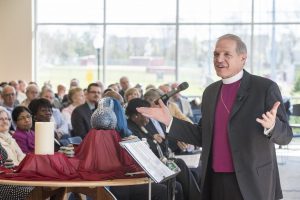 Photo Captions
Top Photo: Bishop Sudarshana Devadhar from the New England Conference, Bishop John Schol from Greater New Jersey, Bishop Ernest Lyght, retired and General Secretary of the General Commission on Archives and History Alfred T. Day helped dedicate the Mission and Resource Center for the United Methodist Church of Greater New Jersey. Photo by Seth Bechtold
Bottom Left Photo: Bishop John Schol welcomes staff and guest to the dedication of the Mission and Resource Center. Photo by Seth Bechtold
Bottom Right Photo:  The United Methodist Church of Greater New Jersey dedicated a new Mission and Resource Center on Friday.  The Center will provide office space, meeting rooms and a video studio to leaders in the church and community. Photo by Seth Bechtold,