Active Clergy Health Insurance & Wellness
HealthFlex Exchange for Active Participants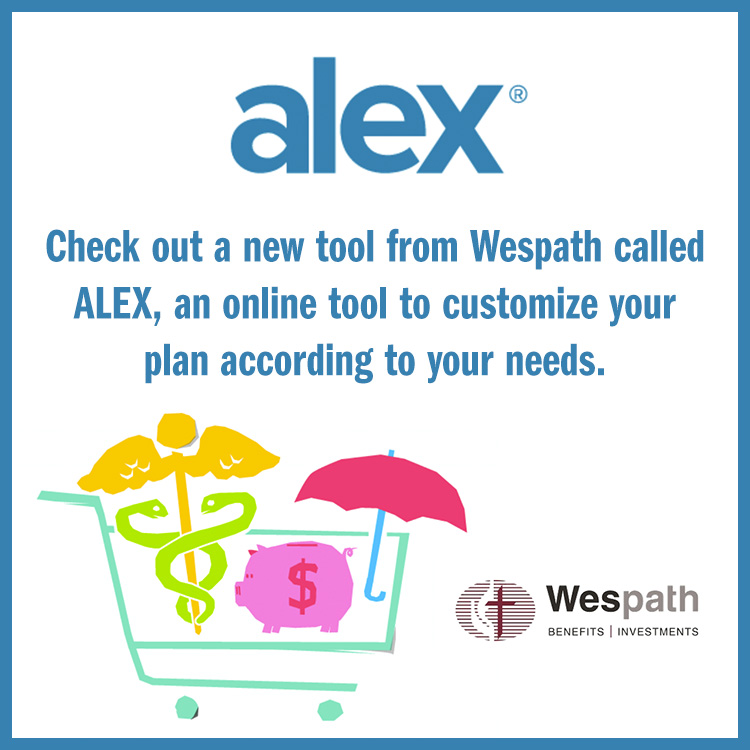 Use ALEX, an new online tool to help choose and customize a plan according to your needs. Find out how to:
Compare HealthFlex plans – learn which plan(s)might cost you the least
Estimate out-of-pocket costs and how to make the most of reimbursement accounts
Log into your Healthflex Exchange account and get started with Alex!
2022 Annual Enrollment Resources
Understanding the HealthFlex Exchange
Important Contacts
Wespath Health Team: 1-800-851-2201, dial 2 for help and then press 0
Blue Cross, Blue Shield:1-866-804-0976
OptumRx: 1-855-239-8471
Cigna: 1-800-244-6224
VSP: 1-800-877-7195
Employee Assistance Program: 1-866-881-6800
HealthEquity: 1-877-924-3967
Wellness Resources
Blueprint for Wellness and Health Check Information: Active health insurance participants may take the Quest Diagnostics Blueprint for Wellness Screening and the Health Check now through August 31.
Health Insurance Webinars
Wespath Webinar - October 20, 2021
What You Need to Know
You will select your 2022 Benefits during our Annual Election Period of Nov. 3 – Nov. 18
We encourage all participants to actively re-enroll as the B1000 will no longer be the default plan
There will be changes to your current health coverage premiums – please plan to join an informational session to learn more
Active Clergy and Lay Employees will still utilize the BCBS of Illinois provider network
If you are currently enrolled in the B1000 Plan, and you do nothing, you will be enrolled in the new Default Medical Plan [C2000].
Wespath Webinar - June 24, 2021
If you missed the June 24 webinar on the 2022 Updates to Health Benefits for GNJ, you can access a recording above and view the Powerpoint presentation here.
Please also note that an ALEX Benefits Counselor for 2022 will be available in mid-September. Additional educational opportunities from Wespath and GNJ will be available this fall before annual election. In the meantime, if you have any questions/concerns, please reach out to the conference office staff.