Committee on Ethnic Local Church Concerns
Greater New Jersey is one of the most diverse conferences of the United Methodist Church. This committee empowers and encourages these ministries, providing resources to strengthen and support them – while honoring their cultural roots. Learn more here.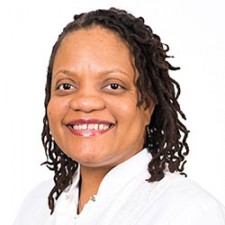 Karline (Kay) Dubuisson has been appointed as pastor at United Methodist Church of Spring Valley.
Karline (Kay) Dubuisson
Karline (Kay) Dubuisson is currently serving Riverside UMC. Prior to this appointment, she served as a Supply Pastor at Chambers UMC. She holds a BA in Adult Education from Southern Illinois University and an MDiv from Palmer Theological Seminary. She will become a provisional elder this year. Her passion is in Community Outreach, Christian Education, Spiritual Formation, and Pastoral Care. She is a Social Worker at heart; she loves to talk, meet, walk alongside of, and fellowship with people from all walks of life. She was born and raised in Port-au-Prince, Haiti. She is married to Edvard, her childhood friend, and they have four children.
About UMC of Spring Valley
2 S Madison Ave
Spring Valley, NY 10977
The United Methodist Church of Spring Valley is nestled in the hills of Rockland County, N.Y. The church's current ministries include a Saturday morning community breakfast, a food pantry, a clothing ministry, United Methodist Women, Sounds of Praise (a contemporary monthly Youth Service) and ongoing prayer services. The style of worship is a mixture of contemporary and liturgical. Sunday services are followed by a fellowship hour where anyone who needs a cup and coffee and an encouraging word is welcome.
UMC of Spring Valley
Mailing Address
2 S Madison Ave
Spring Valley
,
NY
10977