Uncovered Dish Christian Leadership Podcast
What is the Uncovered Dish?
The Uncovered Dish Christian Leadership Podcast is a bi-monthly podcast on Christian leadership by the United Methodist Church of Greater New Jersey that uncovers stories, equips leaders, and changes the world. In this gospel-centered podcast hosts James Lee and Kaitlynn Deal invite guest on the show to share, discuss, and journey with listeners on what churches and congregations are doing in Greater New Jersey and for the Kingdom of God.
Our Most Recent Episode:

Episode 12, March 15, 2017
Conservative Pastor Chuck Mitchell and Liberal Pastor Lyssette Perez sit down at a table to talk about how faithful Christ-followers are found in both liberal and conservative communities, how a pastor might lead a church when members of the congregation are comprised of both liberals and conservatives, and how all United Methodists across the political spectrum might move together and move forward in 2017.
Rev. Chuck Mitchell is the senior pastor of Dobbins UMC in Delanco, NJ
Rev. Lyssette Perez is the senior pastor of UMC of the Rockaways in Rockaway, NJ
Subscribe to the Uncovered Dish!
Be sure to subscribe to us on iTunes, Google Play, Stitcher, or SoundCloud to be the first to know when new episodes are released. If you have any questions, contact us at: podcast@gnjumc.org.
Remember to rate us and write us a comment!





Save
For more information, contact: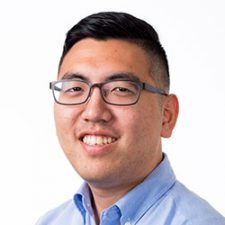 James is a storyteller, and visual arts is his medium. He is responsible for producing all audio and video elements for The United Methodist Church of Greater New Jersey and A Future With Hope. James' favorite thing to do is sit back and watch movies over buttered popcorn with his beloved wife and daughter.
Kaitlynn grew up at the Jersey Shore with no plans to move far from the beach and loves to rescue animals. She has a BA in Communication from Rutgers and is working on a MA at Monmouth University. She is starting her career in communication and has a wide variety of experiences in marketing and nonprofits.