The Christian Outreach Project (COP), based in Rahway, N.J., welcomed in late June 63 volunteers—youth and adults—from 10 area churches to its 41st summer of helping grateful neighbors with needed home repairs and improvements. The special week, June 25 to July 1, was a mutual win-win for both givers and receivers.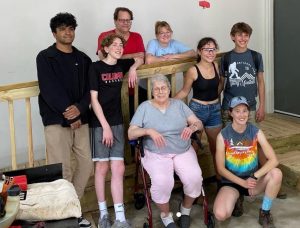 Volunteers came from Milton, Succasunna, Trinity, Branchville, Sparta, Morrow Memorial and New Dover United Methodist churches. Twenty-two families living in Morris, Sussex and Warren counties applied for COP's help, and nine were initially selected.  "However, we had amazing volunteers this year, as we always do," said Dave Kihm, COP executive director, "and a total of 12 homes ultimately received repairs and renovations."
Those repairs and renovations included: roofing; ceiling replacement; ADA accessible ramps; porch replacement; landscaping; insulation and sheetrock replacement; interior and exterior painting; gutter replacement; and deck repairs and rehabilitation.
"Participation increased by over 30 percent from 2022, and our volunteers were able to help over 70 percent more families," said Kihm. COP is a GNJ Advance Special project, endorsed and supported by United Methodists of Greater New Jersey.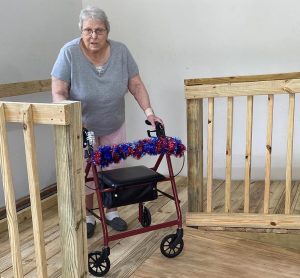 "I've gone to COP twice now, and it's always been my favorite week of the year," said Aidan Heindl, 15, of Morrow Memorial UMC. "You get to spend a week surrounded by amazing people, while helping people in need. You learn a lot about construction, but even more about life. I've made lifelong friends and stories I'll be telling for years. It's changed people's lives, including mine, and I always leave the week wishing it wasn't over."
'The best week of my life'
Aidan's sister Bridget Heindl, 17, calls COP Week "the best week of my life year after year." For that she credits the "incredible connections with people on our crews, as well as the homeowners we are helping."
"COP has helped me find my purpose in the world," she said. "Being able to see the effect that helping people has on me is something that makes me come back each year. COP has opened my eyes to the impact that people can have on others by coming together to do good. It is such a rewarding experience to know that you have the opportunity to be a light for others and have a positive impact on their lives.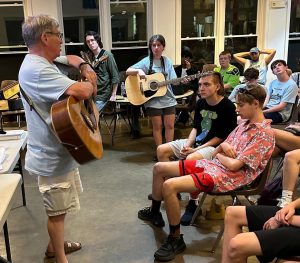 "Some of my favorite memories are the conversations I have with homeowners, and seeing their children and grandchildren come out into the heat or the rain, eager to help us with our work. Every year I can't wait to come back and have the opportunity to learn new skills and connect with more people."
Krystal Woolston chaperones the teens from Morrow Memorial. "COP is a transformational service project for youth and adults," she said. "I've been bringing youth for the past three years, and every year I have had the opportunity to witness students light up for service and grow in their faith. When I have gone, I too, have had the opportunity to grow in my understanding of my own faith a little bit more each year."
The Rev. Eunice Vega-Perez, Superintendent of GNJ's Skylands District, called her two days spent with the COP team "an unforgettable experience. Witnessing their unwavering dedication, hard work and genuine love for the tasks assigned to them left a profound impact on me. The passion and compassion radiated from their eyes as they served the members of the houses they were assigned to."
Longing 'to bring about positive change'
Vega-Perez shared her admiration with both EPA and GNJ conference staff when she preached for their weekly joint chapel service July 10.
"What struck me the most was the collective effort of both young individuals and adults coming together for a common mission: to be the hands and feet of Christ. It was a deeply moving sight, reminding me that today's youth are not merely concerned with buildings or church traditions. Instead, they long for tangible ways to bring about positive change in their communities and the world at large. Their desire to make a difference extends far beyond the confines of a church building; it resonates with a deep yearning to impact the world outside those walls.
"This experience serves as a powerful reminder that if we wish to engage and retain our youth within our churches, we must adapt and embrace change. We need to reimagine how we approach the concept of 'church' and strive to remain relevant in their lives. It is only through innovation and a fresh perspective that we can create an environment that truly resonates with the aspirations and desires of our youth.
COP will have a reunion August 13, from 2 to 6 p.m., at Sparta United Methodist Church, where board members hope to reconnect with participants and alumnae from past summers.
Learn more and view plenty of photos and videos on COP's website,  Facebook page and Instagram page. Contact Dave Kihm at director@christianoutreachproject.org. Donate to COP as a GNJ Advance Specials project.