It was a cloudy day outside on Saturday, February 11; but inside of St. Mark United Methodist Church in Hamilton, near Trenton, the fellowship hall was illuminated by bright ideas that filled the room. The EPA&GNJ Leadership Academy Planning Day ignited many ideas among the 75 ministry-minded clergy and laity who came from across the two conferences—some driving from nearly two hours away.
"Together we are working to craft a leadership academy that blends learning and application, as we serve the current needs of our churches and communities," explained the Rev. Dawn Taylor-Storm, EPA Connectional Ministries Director and EPA&GNJ Assistant to the Bishop for Leadership Development.
"Saturday was an example how collaboration produces fresh ideas and quality work when you bring together gifted experienced leaders," said Bishop John Schol. "The work of EPA&GNJ laity and clergy here will be a gift for developing transformational leaders into the future."
"It was awesome to watch a room full of leaders deeply engaged in the work they were asked to do," recalled Megan McKay, Resource Manager and lead organizer of the event, who appreciated seeing EPA&GNJ members working closely together.  "We received so much information!  We walked away from the event with solid outlines for workshops covering 38 topics after about four hours of work."
Recommending training outcomes, themes, presenters
The five-hour event began in the sanctuary with a meditative "centering time," led by the Rev. Evelyn Kent Clark, EPA's Dean of the Cabinet, followed by rallying reflections by Bishop Schol. EPA&GNJ leadership development staff resourced the gathering by defining the task: to dream, discuss and recommend desired outcomes, themes and presenters for a broad variety of ministry workshops, including presenters who could deliver content well on video.
The Rev. Juel Nelson, EPA&GNJ Director of Leadership Development, taught briefly about the ways leaders learn, using learning theorist David Kolb's model for Experiential Learning, which focuses on trial-and-error learning and experimentation. In other words: learning by doing. "We learn better what we live," she said, quoting author Tod Bolsinger, who has been leading EPA members through a popular study of his new book Tempered Resilience.
"Our focus is not only on what leaders want to know and understand about a subject area," Dr. Nelson said, "but also on what leaders will do because of what they learned. As EPA&GNJ develops Leadership Academy courses, hands-on learning and application will be critical parts of reaching course outcomes."
Later, in the fellowship hall, participants sat in small planning teams of 3-4 people each. They then rotated among groups of chairs bearing colorful, numbered balloons identifying various workshop topics they could explore. They took turns suggesting workshop outcomes, subthemes and presenters.
Dozens of primary topics were grouped around:
Recruiting, developing and mobilizing transformational leaders;
Fostering congregational vitality through worship, small-group ministries, community engagement, making disciples and inspiring generosity;
Organizing the congregation's leaders and teams for effective ministry;
Teaching the Bible and theology, including Wesleyan beliefs and sacraments;
Teaching church history, organization and polity;
Ending the sin of racism, while improving diversity, equity, inclusion and cultural competency.
Communicating in all media to inform, motivate and engage new generations of believers.
'Looking beyond the local church'
"One thing I noticed is that many of the outcomes involved looking beyond the local church to goals of apostolic leadership and connecting with and meeting the needs of the community," said McKay. "We saw this in all kinds of subject areas from growing (congregational) vitality to ending the sin of racism."
Moreover, several groups suggested additional topics, including:
Korean Church Resources;
Latino Ministry Needs and Opportunities;
Ministry with the Marginalized;
Clergy Wellness—Trauma, Grief and Resurrection Ministry;
Technology for the Church; and
Discerning One's Call to Ministry.
Participants, with seminary and university leaders among them, were urged to dream big when it came to suggesting workshop presenters. And some did, offering such names as playwright Lin Manuel-Miranda, former U.S. President Barack Obama and former First Lady Michelle Obama. Others suggested included: respected lay and clergy leaders of EPA&GNJ; staff from Church of the Resurrection in Kansas and from Discipleship Ministries and other United Methodist agencies; Stephens Ministry representatives; prominent seminary and university professors; leaders of successful corporations like Hershey and Disney; and professional mediators and grief counselors.
'I found the planning session well worth it'
"I found the planning session well worth it," said the Rev. Quentin Wallace, pastor of Covenant UMC in Lancaster, Pa. "I enjoyed meeting with clergy from both EPA/GNJ conferences to learn a process of reaching for solutions and outcomes together. I know the planning we did will evolve into great training for us in the future."
"Listening to stories and ideas of those leaders made me realize that there are a lot of things that we can do in our ministries and the possibilities are endless in pursuing our mission," said the Rev. Nova Villa Vitug-Thomas, pastor of Ignite UMC in Kenilworth, N.J. "It was a great experience and I felt so honored to be a part of it."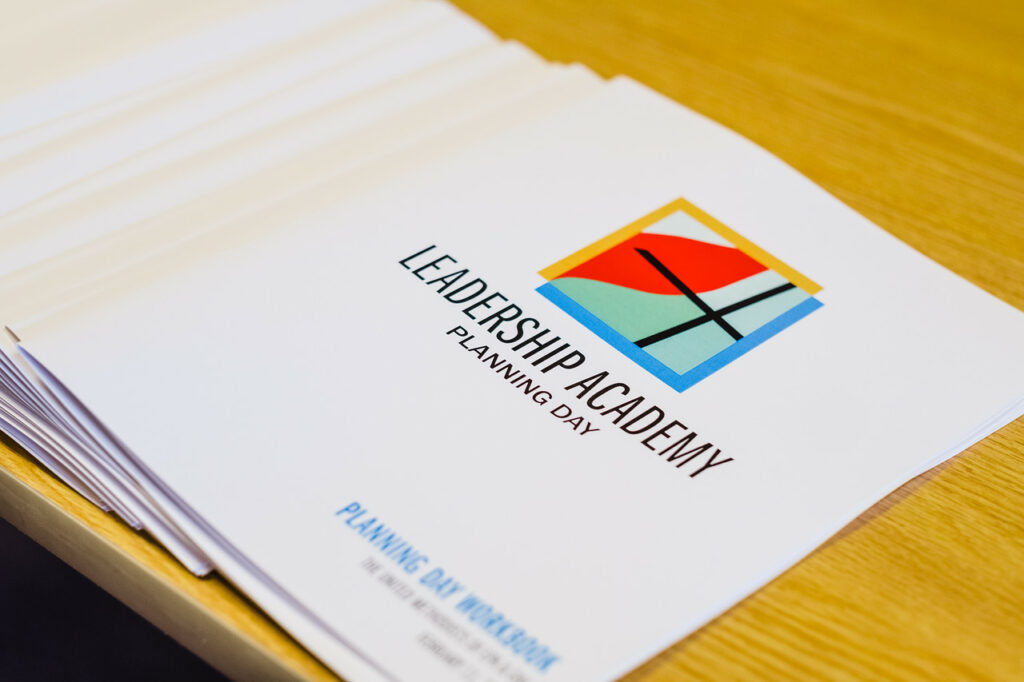 "I appreciated the synergy we experienced in coming together from different places," said Lenora Thompson, who chairs EPA's Connectional Table of conference ministry committee leaders. She participated in three group discussions. "Because most group members were clergy, some of us laity were glad to offer our points of view, looking at concerns in ways that clergy members had not considered."
The Rev. Stacey Jones-Anderson, pastor of Coventryville UMC in Pottstown, Pa., found the planning session to be fast-paced, allowing little time for deep processing of ideas. She led corporate training as a human resources executive in her previous professional life. "But I feel it should provide good, useful information for the next phase of planning for leadership development events," she said. "I'm interested to see what comes next."
Terri Pagani, GNJ's Director of Lay Servant Ministries, enjoyed the brisk brainstorming sessions. "The rotational process was an innovative way to generate ideas and draw people together," she said. "It was interesting to see what groups before us created. Those ideas led to more creativity. I'm looking forward to seeing the ideas come to fruition."
Indeed, the evolving Leadership Academy is a major resource that will aid in the development of leaders, churches and communities who can "make disciples of Jesus Christ for the transformation of the world." While EPA and GNJ each offer extensive leadership training in various forms, this uniting of their efforts into one Leadership Academy should produce creative synergy and more high-quality training opportunities for members of both conferences.
A Prayer of Benediction for the Leadership Academy Planning Day, offered by the Rev. Sang Won Doh, GNJ Dean of the Cabinet

Gracious and loving God, we give thanks to you for the joy and enthusiasm we had this morning as we dream for the future of EPA/GNJ. United Methodists have navigated through 4 C's as the speaker said this morning: Challenge, Conflict, Chaos and Confusion. Amidst 4 C's, you have allowed us to enjoy creating a new future.

Lord, please bless all the courses in the newly (re)launching Leadership Academy, so that new disciples are born and nurtured, lives are transformed, clergy are renewed, churches are revitalized, and new faith communities are formed. Lord, please help us be anchored in you so that we won't be floating without any direction. As we depart from here, give us traveling mercy, we pray in Jesus' name. Amen.