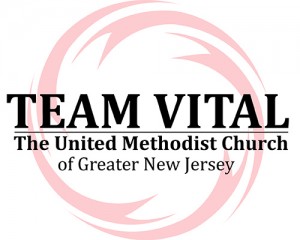 The road to making vital congregations can be a long journey and the next step for GNJ is the creation and implementation of a new ministry and resource for congregations called Team Vital.
Team Vital will bring teams of church leaders together to learn from one another, collaborate, spur one another on and hold each other accountable for taking action building on the connectionalism of the United Methodist Church and the Holy Spirit.
Team Vital will bring together 3-8 church teams in a series of sessions focused on the five key markers of church vitality: inspiring worship, reaching and making new disciples, small group ministry, engagement in mission and generous stewardship. Team Vital will include pastors and congregational leadership.
To help provide feedback in the development of materials, a group of 20 pastors and lay persons from churches all around the conference attended a session at the end of February to review the workbooks and get a sense of the program's design.
"I am always interested in innovative things that can help our church," said Rev. Erik Hall, the pastor at Waretown UMC. "I am just looking for good things to happen. We are always looking for ways to increase vitality."
The conference has set a goal to have 41 percent of congregations in Greater New Jersey become vital by 2018. The starting of Team Vital is just one way to help more churches reach vitality. And just what exactly is a vital church?
"A vital church is one that is continuously being inwardly transformed and is externally focused," said Beth Caulfield, Director of Small Groups and Spiritual Visioning for the Connectional Ministry Team.
As part of Team Vital, each church will select a team to participate which will consist of 8-15 spiritual leaders who will meet four times for group learning, discussion and planning. By the end of the last session, each church team will have created its own ministry action plan. That plan will include utilizing the Vital Signs Dashboard, which will measure progress in the five markers of vitality. It will also assist church leaders in evaluating their strengths and areas where progress may be needed.
"So many times in the past, it's just been kind of a hit and miss or trial and error thing on who is coming or not coming to church," said Rev. Scott Bostwick, the pastor at Grace UMC in Wyckoff. "Churches don't have time to do that anymore. We need a precise plan we can follow."
Churches who participate will receive 18 months of follow-up resourcing such as coaching, involvement by pastors in cohort groups, additional training on the five areas of vitality, spiritual development support, leadership development support and consultation from connectional ministry resource team members and/or the district superintendent.
"This is a very thorough and targeted approach by the conference for resourcing our local congregations," said Caulfield, who is the project champion of Team Vital.
The project has been in development for six months and is ready to be piloted this spring. A full launch is scheduled for the fall of 2015. Rev. Don Medley of Covenant UMC in Plainfield believes that this kind training can help United Methodist Churches be leaders in faith in not only their own communities, but around the globe.
"There is not a better organization than the United Methodist Church," he said. "We are poised to see tremendous growth in our denomination." Caulfield believes one of the keys to Team Vital is that it will allow local churches to create individual plans to fit their specific needs while drawing from the ideas and experiences of other churches.
"The principals of Team Vital will foster creativity to aid churches in putting highly formed and informed contextual ministry plans into action," Caulfield said. "Something special happens when people come together to pray, study the scriptures, learn something new and work as a team to create new ways of ministry.
"That is what Team Vital is all about."