IGNITE 2022 from September 30 thru October 2 was described as "the best one yet," "an amazing relaunch," and "just what my youth group needed to come back together." Youth from Greater New Jersey gathered alongside friends from New York, Eastern Pennsylvania, and Upper New York Annual Conferences! When asked to describe the weekend, students declared IGNITE 2022 to be: "powerful", "exciting", "a new experience with my youth group", "interesting" and "mind-blowing that I can connect with God outside of Sunday morning church".
The young people of IGNITE 2022 participated in a concert with artists Angie Rose and Hulvey, both of whom shared their powerful testimonies through the ministry of music. They were led through the weekend by DJ and emcee El Vow and worship leader Sean Curran. Youth heard powerful messages related to the IGNITE 2022 theme, Limitless, from speakers Eugene Cho and Aqueelah Ligonde. Pastor Eugene reminded us that no matter what challenges we have faced, we have deep value and are loved by God. Rev. Ligonde invited us to remember that we're connected with others and not to forgot that we're all part of the Body of Christ.
At IGNITE 2022, youth groups had the opportunity to participate in meaningful missional initiatives. Groups spent time before the IGNITE event collecting coats for the First Spanish UMC "The People's Church" (Bronx, New York) and diapers for The Maker's Place (Trenton, New Jersey). Youth and leaders also spent time participating in interactive and engaging workshops.  Leaders of young people spent time analyzing, learning and discussing the potential for youth ministry in a post-pandemic world, while youth spent time interacting with topics such as worship, mental health, racism, mission and leadership.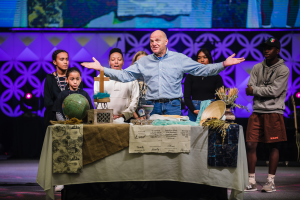 During IGNITE 2022, the Holy Spirit radiated throughout the activities, worship, conversations, and the space. Youth and adults alike expressed acknowledgement and deep appreciation of the opportunity to come together again in community. One adult church leader shared that they chose to attend IGNITE for their own faith journey but that the experience they had for the weekend clearly is leading them to "start a youth group in my church for the three students who are there." Throughout the weekend of IGNITE 2022, youth groups were rebuilt, grown, and even started!
The ministry of IGNITE has grown and evolved over the years but the mission and purpose has remained the same: to provide space for young people to connect through relationships, grow in their faith, and develop as leaders. The IGNITE team is beyond blessed and grateful for the team of faithful volunteers, including our mighty young adult "IGNITE Squad", who made sure that every detail was in place for the IGNITE 2022 weekend. Our team has witnessed the power of the Holy Spirit and we are overwhelmed with the stories, testimonies and experiences that have been shared with us from IGNITE 2022. We are already praying and planning for IGNITE 2023 and we can't wait to see what our limitless God will continue to do in the lives of young people.