In life there are moments when hope fades and uncertainty looms. This is the place we find two weary travelers journeying to a village called Emmaus, feeling discouraged and perplexed after Jesus' crucifixion. As they trudged along the road to Emmaus, these travelers carried the weight of lost dreams and shattered expectations. The road to Emmaus is the place between fear and hope, the road between the place where all is lost and the place of resurrection.
Two thousand years later the road to discipleship can still be long and challenging. This has definitely been the case for many of our church leaders over the past few years. These faithful servants went above and beyond during the pandemic to ensure that while our church doors might have been closed our hearts and minds remained open and committed to doing the work of Jesus Christ.
Then when we reopened our buildings, we discovered that we had moved into a new era for the church. The road back has been long and challenging, often leaving our leaders and volunteers burned out and worried about what the future might hold. The work is hard, and in many cases, there are few persons available to help. Our dedicated volunteers are weary.
But just as Jesus came beside the weary travelers in the Gospel of Luke, Jesus comes alongside the servants of the church today to offer fresh hope and renewal. Some of us are longing for something that will illumine our hearts to remember who we are and why we follow Jesus. One of these opportunities for renewal is the Walk to Emmaus.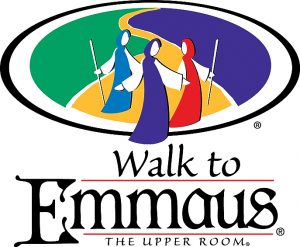 The Walk to Emmaus is a spiritual retreat and renewal program that originated from The Upper Room, a ministry of The United Methodist Church. Participants embark on a three-day immersive experience designed to inspire and strengthen the faith of participants. It happens through a combination of worship, small-group discussions and reflections on a series of talks, guided by a team of both clergy and laity volunteers who have previously completed the Walk.
The Walk to Emmaus is not an exclusive club. Instead, it seeks to create a supportive community of believers who can support and encourage one another on their spiritual journeys. However, the primary mission of the Walk is to strengthen the local church.
"One of the purposes of the Walk is not only to help you become a better disciple," shared Jack Scharf from Morristown UMC, "but also to reinvigorate and renew the church."
Equipped for grace-filled service and leadership
After a weekend filled with Christian love in action, the attendees are equipped for new levels of grace-filled service and leadership. Both the Rev. Brian Roberts, who leads the Greater New Jersey Conference Stewardship Foundation, and the Rev. Sang Won Doh, Dean of the Cabinet, have said the Walk impacted their congregations when they were pastors.
Emmaus Walks help mature Christians, disciples of Jesus Christ, to strengthen their personal holiness and activate their faith commitment. They encapsulate the United Methodist core values and Wesleyan principles of grace. It's a weekend filled with laughter, love and a deep renewal of one's spirit.
Tracy Allen, of Covenant UMC in Plainfield, shared how her church grew, not just in numbers but by inspiring "a whole different change of atmosphere in the church." She points out that she can sense the change that has recently taken place since some members attended a Walk last fall.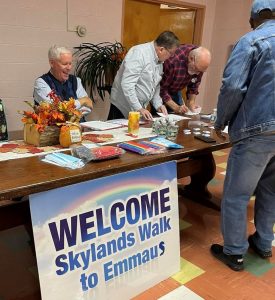 The Skylands Area's next Walk to Emmaus will be offered in September. The Men's Walk will be held Sept. 14-17; the Women's Walk, Sept. 21-24.  Both will be hosted at Sacred Heart Retreat Center in Newton, NJ.
The Walk begins Thursday evening and concludes Sunday evening. During the retreat participants are encouraged to set this time apart from the world to fully immerse themselves in this experience. The Rev. Dawn Maffetone, of Rockaway UMC, shared that she has many good memories of her Walk. "I laughed, I cried, and I learned to live again."
There are three chartered Emmaus Communities in New Jersey: Skylands, Garden State, and Comunidad Emaus Latina Emanuel (CELE), which became the second Hispanic Emmaus Community in the nation in 2016.
Only Skylands is offering a Walk in 2023. Members of that Emmaus community are eager to present the ministry to churches through in-person visits or videoconferencing via Zoom. Contact Stephen Yeske, stephenyeske@comcast.net for a presentation.
To attend a Walk to Emmaus, each person receives a sponsor who has been through an Emmaus experience and wishes to support a new Emmaus participant. If you are interested in the Walk, the Skylands Emmaus Community will match you with a sponsor. For more information please contact,­­­­­­­­­ Don Schulz, Community Lay Director, dnschulz2@gmail.com.
Applications accepted for September Walks until August 15
The Emmaus community will accept applications for the September Walks until August 15. There is a $300 fee that covers all expenses including food and a private room with bath. The community does offer some partial scholarships. Your sponsor can help you with those details.
"God uses these three days in a mighty and powerful way," says Stephen Yeske, Lay Director for the upcoming Men's Walk, "to allow people to see what it is that God is calling them to do in their ministries, be it lay or pastoral ministry." He invites leaders of local churches to prayerfully consider attending the walk.
"We are excited to see how God's Spirit will move," adds Elena Van Schaak the Lay Director for the Women's fall Walk. "It's a powerful weekend."
In the gospel, the downhearted disciples' encounter with Jesus held the key to a profound revelation that would renew their hope, challenge their faith and reshape their understanding of the world. The Emmaus Walks offer a reset opportunity for weary followers of Jesus to restore and energize their faith through an encounter with the resurrected Christ.
These Walks will deeply impact your journey with Christ and remind you of why you started walking with Jesus in the first place.
*The Rev. Gina Yeske is Director of Resourcing for GNJ's Metro-Highlands Region. The Rev. Gabrielle Corbett helped with this article. Learn more about the UMC's Walk to Emmaus ministry.