Sign up by Nov. 30 for final cohort in 2024
The Bridges Project offers a key pathway on Greater New Jersey's Journey of Hope to help congregations engage with the diversity of their surrounding communities.
The Bridges experience, offered to church teams gathered in cohorts, can equip church members with the tools and abilities needed to start honest conversations, share in the language of candid storytelling, learn about their surrounding communities and cultivate joyful relationships across lines of difference.
Never have our churches needed this gift, this joy more than now.
GNJ's Bridges Project, funded by a Lilly Endowment grant, takes participating churches through a 12-month process that makes this kind of joy more possible. The third and final cohort in this program is being formed now and will engage in Bridges together in 2024.
Churches on a Journey of Hope that want to benefit from Bridges should email Alyssa Ruch, director, at aruch@gnjumc.org by November 30. The third and final cohort will launch in February 2024.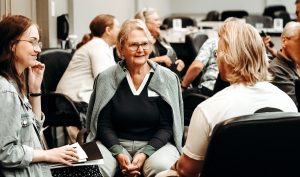 The cohort gathers together over three weekends to help them explore and gain tools to use throughout the year to better engage their communities. The three 2024 gatherings for the final cohort will be February 2-4, May 3-5 and August 23-25.
Visit the Bridges section of GNJ's website to view short videos where 2023 cohort participants reflect on their learning experiences with storytelling and how it impacted them. Also, read new articles there in the coming months about how Bridges participants are using and benefiting from the experience in their churches and communities.
"Our connections matter, and each of us has a story worth sharing and worth hearing," says Ruch. "We help facilitate and provide tools to create a safe space where people are not fearing judgement but can be the authentic persons God created them to be. Every act of love ushers God into the world, and each story has a way of drawing forth the sacred."
Contact Ruch today, at aruch@gnjumc.org, if you want your church to have the joyful gift and experience of Bridges on its Journey of Hope.