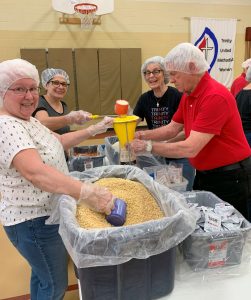 Trinity United Methodist Church in Hackettstown rose up like a happy warrior against the scourge of global hunger and won a major battle April 15. Fifty volunteers worked hard and fast to pack 10,000 nutritious meals in just over two hours to help fill hungry stomachs.
And they had fun doing it!
Those meals—composed of rice, soy, dehydrated vegetables and essential vitamins and minerals—were then shipped to Rise Against Hunger, an international organization that is trying to "end hunger by empowering communities, nourishing lives, and responding to emergencies."
The fellowship hall/gym was "filled with music, happy chatter and lots of smiles," reported the Rev. Deborah De Vos, associate pastor. Volunteers, including three children, worked side by side to assemble and pack the meals.
"This event drew people from the neighborhood, as well as parishioners who were serving in this way for the first time. People who could not make it to the event donated funds to support it."
Trinity tries to sponsor a Lenten Day of Service each year and have "as many people as possible participate in service to others during this time of inner reflection and transformation," said De Vos.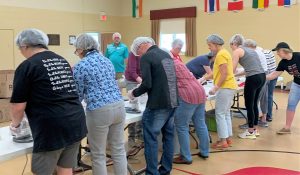 "This year we decided to offer a Rise Against Hunger meal packing event. The only day we could get came after Easter; but that was fine."
She received lots of feedback from participants, describing the fun they had and how great it was to hear the Rise Against Hunger representative tell how much these meals mattered to people, especially malnourished schoolchildren.
"This put skin on the meals and motivated the small but mighty group even further," said De Vos. "It was a powerful experience that we hope to host again."