Sally Hoffman (left), a member of New Providence United Methodist Church and President of the New Providence United Women in Faith, is also a faithful supporter of Keys 2 Success, which brings quality music education to young students in the most underserved areas of Newark, NJ. "Our free, daily piano lessons are delivered in a group setting in the students' own environment," reads the program's website, "where teachers and volunteers work to remove barriers and support students as they develop into future leaders."
On Sunday, April 23, at 2:30 p.m., New Providence UMC will host Keys 2 Success' third annual Practice-A-Thon
"I've done a variety of things, but my passion has always been people," said Hoffman. "I love learning about them. I love helping them move in the direction where they need to move."
Her friendship with Keys 2 Success founder Jee-Hoon Krska (right) began with an invitation to a student performance in Newark. And that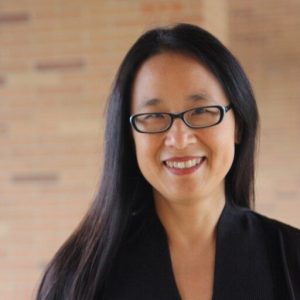 eventually led to a string of collaborations between their two organizations.
The beauty of the partnership between the New Providence UMC and Keys 2 Success is its ability to bridge the communities of New Providence and Newark (which are just 16 miles apart). To Hoffman, expanding one's own community is crucial: "If we expand our community, we have more resources that everyone can draw from."
One of the first major events Keys 2 Success held in partnership with New Providence UMC was its 2022 Practice-A-Thon. The collaboration of Keys 2 Success students, church members and the New Providence High School choir created a tremendous sense of community among all involved. "It was magical," said Hoffman.
Communities have the capacity to act as support systems
Communities have the capacity to act as support systems as well. When one runs into what Sally refers to as "the brick wall," there will always be someone there to help look for a way forward. When asked about her own personal ways of tackling setbacks in life, Hoffman shared, "My sense of working at things is: Don't use the words 'I can't.' Don't use the words, 'That's not possible.' I take words of action more: 'Do, be, go, open, discover.' Those words are lively—they have sparkle."
When it comes to helping others, Hoffman has the same mindset, always searching for ways to help people navigate past the brick wall.
There is certainly no shortage of "brick walls" when it comes to running a non-profit. Hoffman and her congregation's UMF members are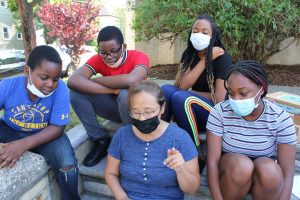 conscious of that. "As we participate and hear the stories of the children, it just further emphasizes our need to be supportive of what Jee-Hoon does. There's a huge lack of equity in education. Keys 2 Success sharpens everyone's understanding, because they can see the obvious need for music education."
Whether cheering on the students at their performances or lending space to hold a concert, the church recognizes the impact their support has on the success of Keys 2 Success.
On Sunday, April 23, at 2:30 p.m., Keys 2 Success and New Providence UMC will collaborate once again to host the third annual Practice–Thon. Even more than last year, this event will be a true intersection of communities with students from Newark, New Providence and other New Jersey townships—all coming together as equals to create and enjoy music and dance, and to reflect the rich diversity of the Keys 2 Success extended family.
Sally sums it up perfectly: "When you go into that room, you know there'll be a great deal of love there."
*Adapted from an article by Ella Platts, a senior at Union County Vocational Technical High School. Her original article was published on Linked-In. Platts joined Keys 2 Success during the spring of her sophomore year through its Pen Pal program and is currently a member of the fundraising and publicity teams. She enjoys using her vocational background in design to create fun and compelling content for Keys to Success!
Keys 2 Success was founded by Jee-Hoon Krska a Juilliard-trained classical musician with a doctorate in Electrical Engineering from MIT who wanted to provide the young children of Newark the cultural enrichment available to her own children, growing up in a privileged suburban community.
Launched in 2016 with 12 students at the South Street School, which draws students from Newark's Ironbound neighborhood – including Pennington Court public housing – K2S now teaches 100 students during the school year and in the summer program also held in Newark. Learn more about Keys to Success at https://www.keysnewark.com/.