If any among you are suffering, pray. – James 5:13
Dear Friends in Christ,
I am calling United Methodists of Greater New Jersey, their families and friends together for a time of prayer as we face challenges and concerns with the virus, Covid-19. A virtual prayer service will be held, this Sunday, March 29 at 4:00 p.m.
Reverends Sang Won Doh and Lyssette Perez, accompanied by Director of Worship, Lan Wilson, will join me for a 20 minute prayer service in which we will engage people in their homes to pray for our families, communities, medical workers, service people and those who are ill or who have lost loved ones. There is power in prayer and I hope to be joined by thousands in this time of prayer. You can help amplify our prayers by sharing this email with people in your congregation, family members and neighbors and inviting them to join us. Praying together as one will unite us in a common effort to stamp out the coronavirus. Our staff has also prepared an announcement (below) that you can post on Facebook and in your weekend communications. It will be a powerful witness by United Methodists.
God will see us through this time and prayer is key to our healing and movement forward. I look forward to your participating in the prayer service.
You can participate in the following ways:
GNJ You Tube
GNJ Facebook
Call and Listen: dial 646-876-9923 using Meeting ID: 327 405 894
Below are some resources and information to assist us during the challenging season.
Keep the faith!
John
Bishop John Schol
United Methodists of Greater  New Jersey
Announcement You Can Share with Church Members, Friends and Family | Click here to download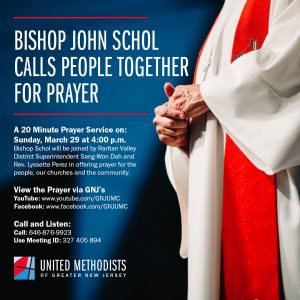 Congregational Offerings
Many of our churches are experiencing financial challenges since we are not worshiping in our buildings. GNJ set up an online giving portal for churches to receive donations and already some of our churches are receiving thousands of dollars through donations from their congregation. You can contribute and invite others in your congregation to contribute by visiting here. If your church already has an online giving program, we encourage you to promote and direct them to that program.
Easter Services
We have been receiving questions about holding Easter Services in our congregations. The number of Covid-19 cases in GNJ have more than doubled in just the last two days. We are receiving reports of United Methodists who have contracted the virus. While you may have heard some people indicating things will be open by Easter, medical people and scientists are indicating this will create a spike in illness and death. We engage with state and federal experts daily for guidance and updates. Congregations and clergy are to prepare for online Easter worship. This is a disappointment to me and I am sure it is to you as well. I truly regret the sacrifices we are all making. I am glad United Methodists are being responsible as we spread the Good News of Jesus Christ while together we stamp out the coronavirus. We want zero sickness because of any United Methodist ministry.
Online Worship
We will continue to promote our congregations' online worship. We post them on our webpage and will be posting them on Facebook Friday and Saturday. You can find the congregations who have signed up to be listed with our online promotion here. For churches who are not able to hold online worship, please join with another congregation or promote this listing of churches.
Holy Communion
We offer you suggestions for celebrating a love feast with the congregation online. You may find information here.
Coronavirus Miracles Everywhere Fund
The Miracles Everywhere Campaign has be extended to include raising funds for Coronavirus Relief. We will be supporting congregational ministries that assist the community with coping with or fighting the Coronavirus. We also will be providing emergency grants to individuals. Your donation will make this possible. Give today here.
Clergy with the Coronavirus
We have received questions about clergy being infected. While we have had clergy who were exposed or had Coronavirus symptoms, we have no clergy who have tested positive for the coronavirus. Praise God! Let's keep working together to ensure our leaders and people are safe and healthy.
Annual Conference
It is most likely that we will not hold Annual Conference at the end of May in 2020. If we postpone, we have reserved the Wildwood Convention Center for Sunday, October 4, starting at 4:00 p.m. through Monday, October 5, 2020 for Annual Conference. General Conference has been postponed until later in 2021, yes 2021, and Jurisdictional Conference will be scheduled about six weeks following General Conference. General Conference sets policies for the church and Jurisdictional Conference elects new bishops and assigns all bishops to the areas they serve. These plans are being finalized and details will be communicated as they become clearer.
GNJ Information About Covid-19
You can find more information about ministries, government directives and GNJ procedures here.