LONG BRANCH – The weather forecast may have been discouraging, but that didn't stop about 300 clergy and spouses from being encouraged at the Bishop's Convocation.
The annual event took place earlier this week at Ocean Place Resort and Spa on the beach, a location that was originally targeted to be in the midst of the 2015 blizzard. While some snow fell and the wind blew off the Atlantic, the predicted blizzard never happened. But GNJ pastors were not deterred by what might happen outside, but were optimistic about what might happen inside their own lives at the Convocation. "The weather forecast never fazed me in terms of making sure I wanted to get here," said David Edwards, the pastor at Millbrook UMC in Randolph, who made the about 1 hour, 30 minute ride to Long Branch early to beat the supposed storm. "I wanted to get here because this is an important event."
The theme for this year's Convocation was Renew, Relax and Retool and the primary activity was for groups to experience the Coach Approach to ministry. The Coach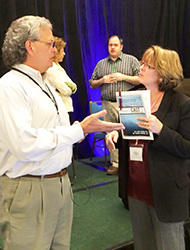 Approach was led by Rev. Chris Holmes and his team of Rev. Karin Walker, Rev. Chris Owens and Rev. Dr. David Argo. "Usually we teach others to become coaches," said Holmes, who is a full-time coach and trainer in the United Methodist Church. "Here, we are teaching the Coach Approach to life and ministry. It's a wide scope of coaching and it's very intentional because we have pastors and their spouses with us."
Holmes wanted the Convocation to be more than just a good experience for those who attended. "We will consider it an absolute failure if people just go away and say that was nice," he said. "We want them to take away a plan for using the Coach Approach in life and ministry and we are going to ask them to write that plan. We want them to make a verbal commitment about how they are going to use this."
Holmes emphasized that there was no one plan that fits all. In fact, he expected some plans to be radically different. "It could be I am going home to have more coach-like conversations with key leaders of my church," he said. "Or it could be I am going to talk to my teenage son in a way that comes alongside him and asks more questions than presume to have the answers. Or it could be I am going to put together a worship team to help plan our worship service."
For some pastors, the plan will likely include several facets. "I hope it gives me some really good skills that we can utilize in lay leadership development," said Rev. Luana Cook Scott, who drove about two hours from her church in Milford, Pa. "And for me, I tend to be a micro manager, so hopefully I can get some help in delegation skills."
Edwards was also aware that the coach approach may reveal some areas he needs to work on. "The coaching approach will give me more insight into areas where I need to work," he said. "Coaching will help me strengthen my gifts so I can be more effective in my ministry. "I want to be more pastoral in palliative care and hopefully this will help me be more effective in consoling those who are in hospice."
Rev. Michael Kim of Christ UMC in Fairhaven wants to find ways to help members of his church use their talents. "I am hoping to engage with lay leaders and help them find their gifts and graces so they can participate in the body of Christ," he said. "Whether it's children's ministry, youth ministry, adult ministry or helping the elderly, I want them to try to define their own God-given mission and work with them very closely."
Convocation is the first step for GNJ pastors to get involved with coaching. More information on coaching can be found on the GNJ website www.gnjumc.org.