HealthFlex Exchange Information for 2021
Introduction to the HealthFlex Exchange (full-time participants): includes six medical plans, three dental, and three vision plans. HealthFlex Exchange will include an option to enroll in an FSA. Introduction of Delta Dental for retirees and clergy/employees working at least 1,040 hours (20hrs/wk).
In 2021, GNJ employees will have the ability to choose six new health care plans as a part of HealthFlex Exchange.  To find out everything you need to know to make your choice, visit the 2021 HealthFlex Exchange page.
June 24: For 2022 Active Plan Changes (HealthFlex Exchange Participants)
Wespath Benefits and Investments is hosting a HealthFlex Exchange Webinar pertaining to important changes in 2022 for the active plan offering.  This is your opportunity to better understand your healthcare benefits and learn more about the changes ahead.
Please make every effort to attend the June 24, 2021 Webinar with Wespath.
Time: 2:00 p.m. to 3:00 p.m.
HealthFlex/WebMD Site Shutting Down June 1
HealthFlex participants and spouses will no longer have access to the HealthFlex/WebMD website beginning on June 1.
Instead, Wespath's Benefits Access is now the home for your health and well-being information.
Benefits Access includes your HealthFlex plan details, shows your health account contributions and provides direct access to medical, dental and vision providers
Wespath will notify primary participants that the site is shutting down on June 1 in an e-mail that will be sent out from May 4-7. They encourage primary participants to register for Benefits Access and Virgin Pulse® to access all their health and well-being information in the same e-mail.
Please click here for the FAQs for the Sunsetting of the HealthFlex –WebMD Website.
Watch the Healthflex Training Video Here
Healthflex Exchange Training

Healthflex Exchange Training

This link has been created for Local Church Leadership. It is a HealthFlex Exchange Training for local churches to familiarize themselves with new billings they may see on their monthly statements (HSA, FSA, Dental, Vision) that they would need to deduct from pastor salaries going forward. The presentation also allows them to understand the plan structure that HealthFlex Participants now have access to through the HealthFlex Exchange. Updated: 12-1-20
Need Help Choosing a Plan?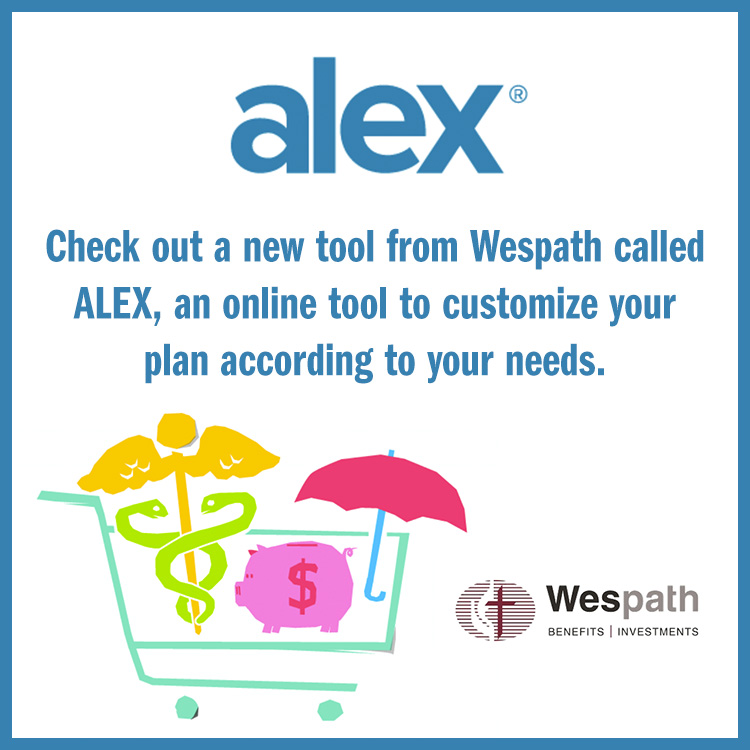 Use ALEX, an new online tool to help choose and customize a plan according to your needs. Find out how to:
Compare HealthFlex plans – learn which plan(s)might cost you the least
Estimate out-of-pocket costs and how to make the most of reimbursement accounts
Log into your Healthflex Exchange account and get started with Alex! | Click here
Understanding the 2021 HealthFlex Exchange
Information for those Approaching or in Retirement
HSA Considerations for Participants Approaching Medicare

HSA Considerations for Participants Approaching Medicare

HSA Considerations for Participants Approaching Medicare as of 9.30.20

2021 UHC Open Enrollment Flyer (Retirees Over 65)

2021 UHC Open Enrollment Flyer (Retirees Over 65)

2021 UHC Open Enrollment Flyer (Retirees Over 65) as of 9.23.20 | Eligible retirees may enroll in the United HealthCare Medicare Advantage National PPO Plan if they meet the eligibility requirements in the Health Insurance Guidelines. Retirees who previously waived coverage in retirement may enroll at this time.
HealthFlex Exchange Presentation Questions & Answers as of Oct 2020
For more information, please contact: