The Trentonian "Churches collect 87,000 diapers for low-income families in Trenton"
Reposted from original source.
United Methodist churches in Trenton and central New Jersey partnered to collect more than 87,000 diapers for low-income families with infants in the capital city. The Diaper Drive was sponsored by the Maker's Place, a new United Methodist initiative in Trenton, with assistance from four Trenton-area churches and nearly 40 congregations and community groups from across New Jersey.
One in three mothers struggle to provide enough diapers for her children.
The diapers will be distributed at community birthday parties in 2019. The parties will celebrate one year olds and their families. Every child in diapers who attends will receive diapers. These 'First Birthday Parties' will be sponsored by the Maker's Place in partnership with the Children's Home Society of New Jersey, along with other congregations and community partners. While celebrating important milestones for children, the parties will also provide resources to reduce Trenton's high infant mortality rate. The first party will be on March 2, 2019, at Turning Point United Methodist Church, located at 15 South Broad Street, Trenton.
Visit makersplace.org for more information.
A New Mission Initiative In Trenton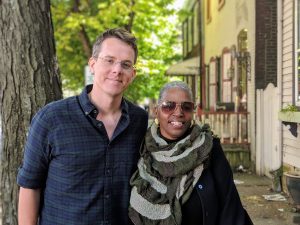 The Maker's Place is a new mission initiative of United Methodists in Greater New Jersey. We're working to open a new neighborhood center in Trenton. By connecting neighbors with neighbors, and by listening and responding to the dreams and aspirations of people living in poverty, we can empower all people to make more of their lives and communities.
The Maker's Place is focused on expressing the wide welcome of God through initiatives centered around food and families. Already, the Maker's Place has partnered with Trenton congregations and a local elementary school to distribute warm clothing for the winter to residents in Trenton. Students who attended IGNITE youth conference in Wildwood helped booster this effort by providing hats and gloves for the Maker's Place to give away.
Currently, the Maker's Place is organizing a Diaper Drive during Advent. Congregations in the Central Region are invited to collect diapers for the Maker's Place to distribute to low-income moms and families. In 2019, the Maker's Place is partnering with Trenton-area churches to host birthday parties for infants and their extended families, to celebrate important milestones and support change and transformation.
In 2018, GNJ appointed Rev. Michael Reed to coordinate this new ministry in Trenton. Michael hopes to develop this initiative into GNJ's next Hope Center.
Diaper Drive
One in three moms struggle to provide enough diapers for their babies. You can help alleviate this challenge for low-income families in Trenton. Our goal is to collect 10,000 diapers by December 16, from churches and communities across the Central Region of Greater New Jersey. You're invited to host a diaper drive! A diaper drive is a wonderful way for your congregation to contemplate the significance of the baby Jesus during the season of Advent.
The Diaper Drive Challenge will collect diapers of all sizes for infants and children living in poverty. Diapers will be distributed as part of "First Birthday" parties for babies and their families, hosted by the Maker's Place and Trenton area United Methodist churches including Turning Point UMC, African UMC, Iglesia Metodista Unida Wesley, and Trinity UMC in Ewing.
The Diaper Drive and the community celebrations are part of a larger effort to address infant mortality. Mercer County has one of the highest infant mortality rates in the State of New Jersey, measured in part by factors related to poverty. By participating in the Diaper Drive Challenge, your church can come alongside children and families, and support a new United Methodist mission and ministry in central New Jersey.
Deliver Your Diapers: Please deliver your diapers on Sunday, December 16, from 12:00 p.m.-6:00 p.m. Donations can be taken to Turning Point UMC. Volunteers will be ready to welcome you and help unload.
​
Alternative drop-off times are Tuesday, December 18, from 6:00 p.m-8:00 p.m, and Wednesday, December 19, from 1:00 p.m.-3:00 p.m. at Turning Point UMC .
Contact michaelreed@makersplace.org if you need to donate during one of the alternate times.
For more information on The Maker's Place contact: