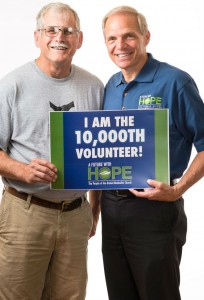 This Charlie Brown really is a good man.  His volunteer work was celebrated in mid-July as he was the 10,000th person who volunteered to help in Sandy recovery efforts with A Future With Hope since the storm hit in 2012.
Charlie Brown and his group Servants Inc., out of York, Pa., have been regular volunteers in Sandy recovery. Yet Brown knows the work is far from finished.
"People ask me 'why are you still working on Sandy recovery?"  Brown said.  "There are many, many people still not in their homes or living in damaged homes.  A lot of people where I'm from are shocked to hear that."
Brown (pictured on the left with Bishop John Schol)  knows there are an estimated 10,000 families in New Jersey who are still out of their homes due to the devastation from Superstorm Sandy, which took place more than 2 1/2 years ago.
That's why Brown likes being what might be called a professional volunteer. He is retired from his job with the United States Postal Service, but he's not retired from working hard.  He said last week's trip is his 11th overall volunteer trip to help people rebuild after Sandy.
"One of the main reasons I do this is to help my neighbor," Brown said. "I grew up in a large family and it was ingrained in us to help our neighbors without being asked."
Brown, who was on his fourth trip for A Future With Hope and has scheduled another for September, has seen first-hand what it means to families who are helped by A Future With Hope volunteers.
"I think what we are doing is providing hope for homeowners," he said. "When they see a group of people pull up to their house, it gives them hope that they can get some sense of order back in their lives. When they see what we do, they are amazed and thankful."
A Future With Hope volunteers are able to do quality work because they are under the direction of a registered NJ contractor and have helped rebuild more than 170 homes in more than 50 different communities throughout New Jersey. The more than 10,000 volunteers to date have come from 38 states who have given more than 230,000 hours of volunteer time valued at an estimated $5.8 million.
But even with all that has been accomplished, there is at least that much more to do for those 10,000 families still in need. The good news is that A Future With Hope has the resources to continue to help. A Future With Hope, a nonprofit organization founded by the United Methodist Church of Greater New Jersey in the aftermath of Superstorm Sandy to aid in recovery, is working on 53 homes this summer.
Working with county long term recovery groups, other faith based recovery groups, and local and state agencies,  A Future With Hope staff and volunteers have been able to help more than 400 families in case management.
"We could not do this work without the volunteers who give up their time to help restore lives," Greater New Jersey Bishop John Schol said. "Our volunteers are not only skilled, they truly care about the work they are doing and the people."
Another key to A Future With Hope's success has been that many of the volunteers have high level construction skills. Groups such as Christian Public Service, International Relief Teams and World Renew Disaster Relief Service with their experienced home builders and construction workers have made long-term commitments to A Future With Hope. Most groups commit to spending one week at a time and are housed and given meals at one of A Future With Hope's 15 host sites. The ages of volunteers range from those who are retired to youth groups and young people, which make up about 25 percent of the volunteers.
"Sometimes it's hard for people to understand what we are doing," Brown said. "They think why would you take a week's vacation to come here? Before I retired I could only do one trip a year. Now this is what I do and it fills me up."
Another major reason A Future With Hope can continue to rebuild homes is because of its many grantors. Major funders include the United Methodist Committee on Relief, the Hurricane Sandy NJ Relief Fund, the American Red Cross and the Robin Hood Foundation. There have also been hundreds of thousands of dollars raised by different groups, ranging from United Methodist churches, Jewish youth groups, Episcopal Disaster Recovery, local swim clubs and individuals and organizations from all around the country. All of those donations helped A Future With Hope be named a top five Sandy recovery group by the Foundation Center, and to continue moving toward the goal of rebuilding between 300 and 500 homes with 20,000 volunteers.
The volunteers were celebrated last week when A Future With Hope showed its appreciation for them by hosting a picnic in Lacey Township.
"Our volunteers are incredible," A Future With Hope Executive Director Bobbie Ridgley said. "They give of their time and resources.  Many of them are professional or retired tradesmen and they are all led by highly skilled construction team leaders.  They are truly the backbone of this recovery effort.  We have highly skilled volunteers scheduled well into 2016 and are ready for more work."
People who need help in recovery can call A Future With Hope at 732.359.1012.