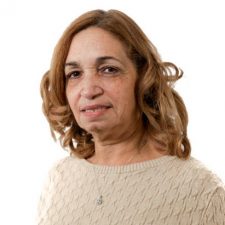 Sonia Cancel has been appointed to Grace United Methodist Church in Kearny and Lyndhurst United Methodist Church.
About Sonia Cancel
Sonia Cancel is a member in full connection at St. Paul's Centenary United Methodist Church in Newark, N.J., and has served as chairperson of SPRP, chairperson of church council, youth coordinator, Sunday school teacher, finance committee member, and as a member to Annual Conference. She served as a supply pastor at Calvary United Methodist Church in Kearny, N.J., and as a member of the District Superintendence committee for Gateway North. She works as a full-time counselor with a drug/alcohol rehabilitation program in Newark and works with residents from the department of corrections.
About Grace UMC
380 Kearny Ave
Kearny, NJ 07032
The congregation merged with First UMC and the two congregations have served the Kearny area for over a century. In the case of First UMC, for 135 years. The church has ministries to recovering persons as well as serving lunches to the needy. The community knows Grace UMC from its annual "Love A Fair" and monthly dinners.
About Lyndhurst UMC
250 Stuyvesant Ave.
Lyndhurst, NJ 07071
Lyndhurst United Methodist Church began with the vision of a group of women who wanted to provide Sunday school for the boys and girls in the community. Today it is a small but committed congregation celebrating its 100 year anniversary. It has one weekly worship service and share their building with a Korean congregation.
Lyndhurst UMC
Physical Address
250 Stuyvesant Ave
Lyndhurst
,
NJ
07071-1833
201-438-6928
Mailing Address
250 Stuyvesant Ave
Lyndhurst
,
NJ
07071-1833
Grace UMC in Kearny
Mailing Address
380 Kearny Ave
Kearny
,
NJ
07032-2604