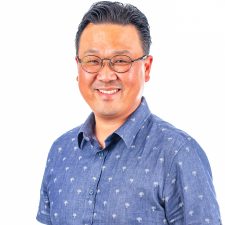 Hyoik Kim has been appointed pastor at Christ United Methodist Church in East Rutherford and at First United Methodist Church in Hasbrouck Heights.
Hyoik Kim
Hyoik Kim is currently serving as an associate pastor at Arcola Korean United Methodist Church in Paramus and is an ordained elder. Previously he has served Johnsonburg UMC and Tranquility UMC. He has two bachelor degrees from Yonsei University in Seoul, Korea, a master's degree from Southwestern Baptist Theological Seminary in Fort Worth, Texas, and a Master of Divinity from Drew Theological Seminary. He has a passion for the hybrid of traditional and contemporary of worship, theology, and ministry, and sharing it in people's daily lives. He is married to Ruthie Hyunsook Kim and they have two children, Grace and Wesley.
About Christ UMC
228 Main St
East Rutherford, NJ 07073
Christ United Methodist Church is located in the Palisades District and has a traditional worship service with strong laity participation. Christ UMC has a diverse congregation which includes people from the Netherlands, Poland, India, Korea, and Switzerland. It is known for participation in many outreach programs. Christ UMC is involved with a community thrift store, CUMAC food pantry and school supplies and Christmas Wish Lists. It has a close working relationship with the NJ Woori Korean Presbyterian Church, which shares its sanctuary.
About First UMC Hasbrouck Heights
57 Burton Ave
Hasbrouck Heights, NJ 07604
First United Methodist Church is a traditional, progressive congregation located in Hasbrouck Heights, a small town about ten minutes away from New York City. It shares its facilities with Cornerstone Church, a second generation English Speaking Korean congregation.
Christ First UMC
Mailing Address
57 Burton Ave
Hasbrouck Heights
,
NJ
07604