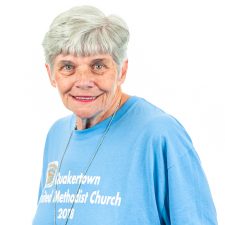 E. Joan Palmer has been appointed to Quakertown United Methodist Church
About E. Joan Palmer
E. Joan Palmer has served Hampton UMC and a two-point charge in the Francis Asbury Parish (Warren County): Broadway UMC and Port Colden UMC. She received a B.A. from the College of Liberal Arts of Drew University and a M. Div. from the Theological School of Drew University. She is a life-long active United Methodist. She loves to work with all age levels of people and share in their journey of life and faith. She looks forward to sharing her passion for worship, teaching and local and global outreach. She is married and has adult children, grandchildren, and great grandchildren.
About Quakertown UMC
1187 Croton Rd
Quakertown, NJ 08868
Quakertown is located in Franklin Township in central Hunterdon County. In its early days, Franklin was a Quaker settlement. Quakertown UMC was established in the 1840's and has remained active in the community. The congregation holds a traditional worship service each Sunday morning and special services throughout the year. It has Sunday School each week.
Quakertown UMC
Mailing Address
PO Box 307
Quakertown
,
NJ
08868