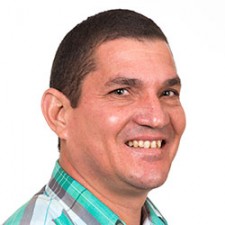 Alfredo A. Caballero has been appointed pastor of El Redentor United Methodist Church in Elizabeth.
About Alfredo A. Caballero
Alfredo A. Caballero was born in Cuba where he studied at the Evangelical Theological Seminary of Matanzas and where he obtained his licenciated degree in Theology. He has performed post graduate studies. He was ordained an Elder in 2005 in the Methodist Church of Cuba where he served for 23 years. He is married to his wife Idian Diaz and they have three children: Eliannis, Elizabeth and Alfredo. At present his work is focused to reach the Hispanic communities in Elizabeth. His passion is the preaching the Kingdom of God.
About El Redentor UMC
477 Monroe Ave
Elizabeth, NJ
El Redentor UMC is a Latino/Hispanic congregation chartered in 1984 in the city of Elizabeth. It is a congregation of immigrants from first and second generation that welcomes and serves people from many Latin American and Caribbean countries. They have primarily focused ministry among and with the undocumented immigrants. They have extended our ministry to the streets of Elizabeth through a mission initiative: Amistad (Friendship). They have an ecumenical approach to the ministry and relation with community social service agencies that enhance and uplift our ministry and presence in our community.