"Never stop praying" 1 Thessalonians 5:17
by Rev. Gina Yeske
Last year I made a major life change when I accepted the appointment as the GNJ Director of Small Groups. While this new call was exciting, I knew that one of my most profound challenges would be my long commute. I was leaving my 5-minute drive on country roads to the church and exchanging it for a tedious trek on 3 major highways. How was I going manage this drive? I searched for ways to make this travel time more purposeful, I also need a way to manage my heightened anxiety about the traffic and weather conditions.
As I initially navigated the highways, I intensely prayed simply not to crash. Although I was offered safe travels, I did not have peace. I soon realized that if this was going to be sustainable I needed to take a new approach. I asked people for advice and did research but nothing really helped. Then one day, in the midst of a difficult drive, I looked up for divine inspiration and there was my answer.
Life will always have moments when we are traveling uncomfortable roads. As United Methodists this is one of those seasons. While we know God has not abandoned us, we may be anxious and unsettled. In this season we are looking up for divine inspiration, and there is an answer.
Keep praying.
To keep praying may seem oversimplified, but I believe it is the answer. What does it look like to live your life fully immersed in prayer? Henri Nouwen has a few valuable insights on a life of prayer I'd like to share.
Nouwen believes, "The only way to pray is to pray, and the way to pray well is to pray much." It takes time and practice to build our prayer muscles. Set a reminder on your phone to pray a few times during the day. Pray different ways:  silent, out loud, alone and with others.
The funny thing is when life is going well, I sometimes forget to pray. This happens when I make prayer about my needs and wants instead about conversations with God. Nouwen reminded me, "Prayer is the center of the Christian life. It is the only necessary thing. It is living with God, here and now."
"One way to pray in a fear-filled world is to choose love over anxiety, to open the door of the heart to dwell in the intimate presence of the One who loves us." said Nouwen. Instead of praying that fear will leave us alone, we can pray that when we are afraid, we will trust and have confidence that God has provided all we need.
Prayer is what has sustained me for a lifetime and I trust it will get me through today too. Please join me in this season of prayer. You can join the GNJ prayer movement to receive 40 Days of Prayer by clicking here.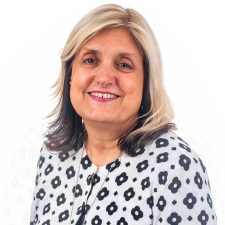 Bloomsbury UMC
Mailing Address
PO Box 86
Bloomsbury
,
NJ
08804