How to Register
This fall we are offering two different classes, Accountable Discipleship and Called to Preach. Accountable Discipleship will be held on ZOOM and your ZOOM link will be emailed to you before the beginning of the class. Called to Preach will be in-person.
Registration fee is $35. Registration link is provided below. Local churches are encouraged to pay the registration fee for their members.
Students must purchase their own participant's book. Use book links provided below.
A confirmation email will be sent after registration is received. Registration should be received two weeks prior to the first scheduled session (i.e, Feb 2 for the class that starts Feb 16). Classes may be cancelled for insufficient enrollment. In that event, students will be encouraged to sign up for another class. Completing the Basic Class is a prerequisite before enrolling in an advanced/certified course. Questions may be directed to your district director. District director listed here.
Advanced/Certified: Called to Preach | Option 1 (Classes are in Person)
Tuesdays – Feb. 28, March 7, 14, 21, & 28; 7:00 p.m. – 9:00 p.m. | Instructor: Rev. Bob Costello
Petersburg Wesley United Methodist Church
400 Route 610
Petersburg, NJ 08270
Advanced/Certified: Called to Preach | Option 2(Classes are in Person)
Saturdays – March 18, April 22, & 29; 9:00a.m. – 1:00 p.m. | Instructor: Rev. Elouise Hill-Challenger
Galilee UMC
325 Genesee Ave.
Englewood, NJ 07631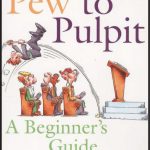 From Pew to Pulpit | Participants Book • Clifton F. Guthrie Participant's Book • AB6660 • 978-0-687-06660-5 • $15.99 (Available in Kindle, $9.99)
For more information, please contact: