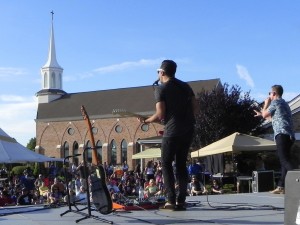 The fifth annual Musicfest of Praise will provide concertgoers with an opportunity to help the hungry while enjoying the contemporary Christian music of four diverse bands and various other family-friendly activities.
The church hosts Musicfest of Praise as a means to serve the community by gathering and sharing food with the needy. Admission to the event is free with the donation of nonperishable food items. The primary beneficiary of Musicfest food donations will be the Rutgers Student Food Pantry, which serves student needs during the summer as well as the school year.
The bands featured at this year's Musicfest will be Messiah's Quest, the Christ United Methodist Church praise band, and three other groups reflecting diverse musical backgrounds. They are Rhythm and Praise, a Filipino band from Bible Church International in Randolph; the Piscataway Praise Singers, an Indian band; and Break Ministry, a group that reaches out to high school and college students in New Jersey and neighboring states.
A portion of the lawn will be devoted to activity areas for children, ministry information tables and food and beverage concessions. Children will engage in a variety of games within an inflatable play area, build crafts and participate in hunger awareness activities. Face and nail painting also will be offered.
For further information, contact Christ United Methodist Church at 732-463-1517 or visit the church website, www.ChristUMCpiscataway.com