"What's Good About Good Friday"
Guest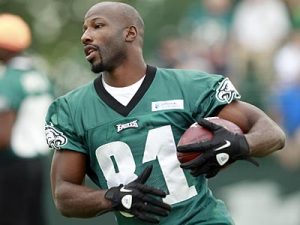 Speaker:
Jason Avant
Former player of the Philadelphia Eagles
What IS this "Good Friday Men's Breakfast Anyway" ??
An encouraging, brief, Christ-focused gathering of men regardless of church affiliation, that will lift up your guys.
A great breakfast meal in a great setting.
A local event led by local churches and lay leaders, focused on the Good News of Good Friday and Easter, the three most significant days in history.
An event that started at a local YMCA back in the 1950's, when Campbell's Soup was one of the original underwriters. In recent years it has been on the upswing in attendance and impact.
This year's speaker is Jason Avant, formerly of the Philadelphia Eagles and the Kansas City Chiefs.
The reasonable ticket price is only to cover the food, venue, and event costs. This is a non-profit, break-even event that has been handled with absolute integrity each year.
If you and your church would like to purchase tickets for this event, please call Kathy McGaurn at (856) 854-4869 or email at kmcgaurn@yahoo.com