Our call to love our neighbor is even stronger today. Below are some ways we can continue to be in mission in our communities during this time of uncertainty and social distancing. Remember, we increase our impact and reach through partnerships. Reach out to other United Methodist Churches in your area to learn what they are doing, what they would like to do, and how you can collaborate. I would like to hear what you are doing as well. We are in this together. God is with us.
Global Ministries Starting Virtual Itineration of Missionaries - May 28 at 1 p.m.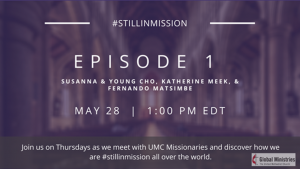 A new series connecting the church with missionaries serving all over the world. Episode 1 on May 28 will feature missionaries that are directly working with Church Planting, Evangelism and Discipleship.
Participants will have the opportunity to explore the work of Susanna & Young Cho, Katherine Meek and Fernando Matsimbe.
If you have any questions, please reach out to Missionary Support Coach, Erica Oliveira eoliveira@umcmission.org
Registration is required for this zoom meeting. You can register here.
Food and Food Pantries
Food collection and distribution is emerging as a critical issue in the wake of the pandemic. Check out our resources here.  
Host a Virtual Food Drive
Sew Masks for Healthcare Workers
United Methodist Communities is seeking masks for their healthcare workers. Here is a YouTube video that shows you how to make them! To find out more information, you can go to the United Methodist Communities website here.  Please contact Susan Sharp at United Methodist Communities Foundation for further instructions by emailing ssharp@umcommunities.org or call/text 856-298-6350.
Other Face Mask Needs
Some healthcare organizations have put out a call for homemade face masks, while others are not accepting them. Before donating face masks, contact the organization/facility you wish to donate to to learn if they are accepting them and what their requirements are. Some facilities have specific requirements as to what materials to use and how to make the face mask. In addition to United Methodist Communities, these facilities are requesting homemade face masks (as of 3/23/20):
Make Cards for United Methodist Communities HomeWorks Clients (Monmouth, Ocean and Middlesex counties)
United Methodist Communities HomeWorks, offers home-based senior care and assisted living for seniors who wish to remain in their residences. HomeWorks is seeking homemade cards to give their seniors who are isolated from others, including family members. The homemade cards can be spiritual, uplifting, and/or encouraging ("We're all in this together"). This is a great way for children and youth to engage in mission as well! If you would like to participate in this mission opportunity, please mail your cards to:
United Methodist Communities HomeWorks
c/o Jennifer England
54 Olin St.
Ocean Grove, NJ 07756
For more information, please contact Jennifer England at jengland@umcommunities.org or 732.838.1950
Community Mission Ideas
Food Insecurity:
Transform your food pantry to grab and go from the curb.
Donate to local food pantries.
Create a Feeding Ministry Team.

People in need contact church office.
Office notifies a team member.
Team member takes action by dropping off food at home or arranging for pickup.
Turn feeding ministries into meals to go.
Create a list of food and supply needs and share with congregation and community.
Launch or expand weekend backpack feeding program to feed children throughout the week.

Avoid purchasing foods labeled WIC/SNAP unless you are a participant. Also, if possible, avoid grocery shopping the first few days of each month. This is the time when families receive their WIC/SNAP benefits and will allow them to purchase approved items. For more information from the Food and Nutrition Services, CLICK HERE.
Homelessness:
Distribute hand sanitizer, food items, hygiene items.
Contact a local shelter to see what donations are needed.
Assist persons who are at risk of homelessness, especially due to the pandemic, with housing related costs (rent, utilities, etc.).
Pay for temporary housing (hotel, motel, etc.).
Direct persons to a shelter who can identify additional resources or direct shelters to area where many persons are living on the street.
Call NJ 211.
Homebound/Quarantined:
Deliver food and supplies – drop and go.
Call rather than visit them or Skype, Facetime, ZOOM if possible. Click here for resources to get you started.
Create a team including children and youth so persons are checked on more frequently during this time.
Assist with necessary errands – get the youth and young adults involved!
Give Blood
Personal Mission Ideas
Mental Health:
If you have a background in Mental Health, serve as a volunteer. For more information, visit www.covid19.nj.gov (for NJ) or www.apps.health.ny.gov (for NY).
Care teams – Establish a "buddy" system (via online) to ensure vulnerable and hard-to-reach community members stay connected to COVID-19-related news and services. Also don't forget those who may be stigmatized.
Checking in on each other, create a phone tree for regular calls.
Exercise, yoga, meditation.
Pray!
COVID-19 Resources from National Alliance on Mental Health HERE.
Self-Care:
Walk your neighborhood, park, woods, etc. Exposure to sun will increase Vitamin D.
Pray, Exercise, yoga, meditation.
Call friends, family, and church members to stay connected.
Writer letters to people in nursing homes, who are quarantined, or home-bound.
Mission Giving 
Collect money to assist people/families in your church and community with the following needs due to lost or under employment (mail checks to church office, give online, or another way your church is receiving gifts):

Medical bills/medicine
Food
Supplies
Housing
Other bills/expenses

Give to food pantries, shelters, GNJ Hope Center and other organizations:
Give to UMCOR to support COVID-19 efforts

The Global Health unit of Global Ministries is working to prevent the further spread of COVID-19 in areas of the world where access to clean water is limited and health care systems are weak. They partner with 300 hospitals and clinics, many of which offer the only health care option for poor and isolated populations.
Mentor 
Work with persons who are unemployed or are underemployed due to the pandemic identify ways of generating income, such as:

Food delivery (for restaurants, pharmacies, grocery stores, etc.)
Connecting with friends, family, colleagues to see if there is another resource you can offer (e.g. running errands)

Virtually support children with their school work to assist parents/guardians/caregivers who are working from home
Lead virtual Bible studies and Sunday school classes for children and youth.
Have a gift that you would like to share (music, knitting, art, movement, cooking, reading to children, etc.)? Teach persons virtually!
Help others learn, set up and use technology that is new to them to help them stay connected. You can find technology resources here.
Advocate for your neighbor
Help keep people informed about the latest coronavirus news and resources (translate information into languages other than English and include it on your website, Facebook page, church doors, and documents to include in grab and go bags such as those distributed at food pantries)
Stop the spread of misinformation
Call our senators today and urge passage of H.R. 6201 – Families First Coronavirus Response Act. The phone number and online form found here: www.senate.gov/general/contact_information/senators_cfm.cfm?State=NJ
Support People on the Front Lines
Pray for them.
Check in on them (call, text, email, Facetime, etc.)
Show gratitude (send emails, social media posts, etc. Involve children and youth!)—-Use the hashtag #NJThanksYou when showing gratitude and sharing stories/pictures on social media. Your post could be shared during Gov. Murphy's briefings.
Learn their favorite foods/meals are and ask when you can have it delivered to them.
Ask how you can support them.
New Jersey's Office of Emergency Management is coordinating donations on behalf of health care facilities. To make a donation, email PPEDonations@njsp.org.
Resources for Support Groups
SoberFun's suggestions for joining AA meetings virtually
Mission Downloads
Ministry and Mission in the Midst of Crisis

Ministry and Mission in the Midst of Crisis

Spread the love of Jesus Christ while stamping out the Coronavirus. Download this resource to find out more about GNJ's resources.
For more information, contact: