Jill Hubbard-Smith has been appointed to First United Methodist Church in Oakhurst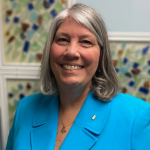 Jill Hubbard-Smith is a lifelong Methodist rooted in love for the Divine and neighbor. She is passionate for mission and outreach ministries that offer radical hospitality, welcoming all God's children totheir place at the table as the Body of Christ. She feels called to "do all the good you can, by all the means you can, in all the ways you can…" She believes creative worship and expression deepens our sense of God's presence in us and in the world. Jill has served in ministry through chaplaincy, camping, and youth ministry before serving in the Greater NJ Conference as a pastor. Jill is married to Garry and together they celebrate the gift of three amazing children, Adam, Hannah, and Lydia. Jill enjoys the beach, game nights, Broadway, travel, and abiding friendships.
Ronell Howard has been selected as the Central District Superintendent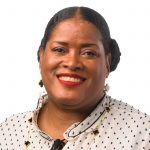 Rev. Ronell Howard will be the new District Superintendent starting January 1, 2023, for the Central District which covers from Trenton, New Jersey to the Jersey Shore. She will be replacing Hector Burgos who was elected a bishop and will be serving the Upper New York Conference.
Presently Ronell is a part of the Metro Highlands Regional Team working to develop clergy and congregations in that region and overseeing A Journey of Hope to end the sin of racism for GNJ. She is a Native of Fort Smith, Arkansas who was raised in New York City and graduated from the State University of New York at Stony Brook with a Bachelor of Arts degree in English Literature. She also earned a Master of Divinity degree from Princeton Theological Seminary where she also received the Jagow Award for Excellence on Homiletics and Speech. Upon graduation she served as a pastoral resident in the Transition into Ministry Program funded by the Lilly Endowment and was ordained in the American Baptist Churches USA of Metropolitan New York and became a United Methodist and received as an Elder of the Greater New Jersey Annual Conference. While serving as a United Methodist pastor in Norwalk, CT, she facilitated the joining of two churches to form Cornerstone Community Church. She previously served as the Lead Pastor of Christ United Methodist Church in Piscataway, NJ.
In her free time, Ronell loves to travel, garden, draw/paint, and follow all things Star Wars and Marvel Cinematic Universe. She loves spending time with family and friends and is the queen of spoiling her two dogs, Rocky and Robyn Fenty.
James Lee has been selected as the Director of Communications for EPA & GNJ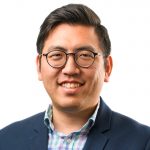 James Lee previously served as senior pastor of Wesley UMC in South Plainfield, senior pastor of Conklin UMC in South River, associate pastor of Calvary Korean UMC, and the Manager of Visual Arts for the United Methodists of Greater New Jersey from 2016-2018. He received his M. Div from Drew Theological School in 2014 and his B.A. from Rutgers University. James is passionate about creative worship, student ministries and the discipleship of new believers. He has been married to his wife Julie since 2012, and they have three young children.
Sammy Arroyo has been selected as GNJ's Director of Resourcing, Coastal Plains Region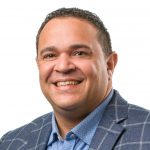 Sammy Arroyo recently served as senior pastor at the First United Methodist Church of Hightstown. He comes with wonderful gifts of teaching, preaching, and leading both in the local church and throughout the annual conference. He is a published author, has turned congregations around in growth, worked with justice issues, and helped build strong relationships that have transformed lives and made disciples of Jesus Christ.